"Battle Of The Sexes"
Episode 71.5
Ninety million people watched the Battle of the Sexes in 1973. That's twice the viewership of any modern Super Bowl. It's a population share closer to the number of Americans who vote in presidential elections than the audience for a smash-hit TV program. (It's five times more people than watched the Game of Thrones season finale). For the kind of monocultural event that simply doesn't exist anymore (and tennis no less!), nearly half the country tuned in.
The sheer magnitude of Billie Jean King being challenged by Bobby Riggs to a co-ed match is something to which the new historical drama — starring Emma Stone and Steve Carell — slowly works up. Much of the movie is bifurcated romance on the road and a comedy about hustling. In King's half of the story, she leads many of the top women players in the early '70s into founding the Women's Tennis Association, striking out on their own to protest a glaring wage gap. Then, there's the retired, 55-year-old Riggs looking for a way to entertain himself with a reactionist, tabloid thrill and to make a quick buck off his chauvinism in the process. Written and directed by Valerie Feris and Jonathan Dayton (Little Miss Sunshine, Ruby Sparks), Battle of the Sexes is trying to pull off a lot. It's looking for the personal drama in the people came to stand in for Title IX and locker room talk but also to build into a climax worthy of a packed Astrodome and a CGI-tweaked Howard Cosell.
In its tall task, Battle of Sexes has a strained relationship with self-advocacy, for arguing why this story needs to be told this way — namely, with two A-list movie stars who are never allowed to get a good volley going with each other. On the one hand, the resonances between past and present are sadly too evident. Performative male chauvinism is one of the last (apparently) permissible kinds, and if this Bobby Riggs wasn't so willing to wink at his "women belong in the bedroom and the kitchen" routine, he'd be an even better analogue to the President. The movie paints him as a tireless egomaniac who climbed to a certain height for the sake of self-promotion and then realized maybe he was in a place to do some real damage.
King, meanwhile, just wants to play tennis. She's bewildered at having to ask for the right to do her job well and be paid accordingly. The movie's most resonant line in today's age of men's rights activists and whatever you psychoanalyze "economic anxiety" to mean is King's showdown with commentator and Association of Tennis Professionals Director Jack Kramer (Bill Pullman). It's against this adversary, not Riggs, where Stone shines and the movie argues best on behalf of the times in which it's being released. "We just want that little bit of what you have; that's what you can't stand," King spits at Kramer.
But an equally important part of telling this story is illuminating King's personal, emotional relationship to the events. What did it cost her to become the guardian of women's tennis while Riggs wasn't remotely risking the reputation of the men's circuit by challenging her? King's inner turmoil is probably the part of the story most worth retelling (think Sarah Paulson's Marcia Clark performance in The People Vs. OJ). Stone doesn't completely relegate her charm, but the script lets all the other characters do the talking for her. It uses Sarah Silverman (as World Tennis Magazine founder Gladys Heldman) and Alan Cumming (as fashion designer Ted Tinling) like crutches more than comic relief. The script constantly looks to them to set the record straight — "this is the way the world works, sweetie" — when you'd like hear King do some processing.
To its credit, the film tries to get very close to the heroine in her personal life, portraying her first relationship with a woman, hairdresser Marilyn Barnett (Andrea Riseborough). In the scenes of courtship and sex, Stone manages a posture you didn't know she had in her arsenal — the strong, immovable shoulders of the nervous jock. Riseborough plays Marilyn as simply gentle and very, very interested. And while not omitting the love in King's life is deeply important, it doesn't change the fact that Marilyn is barely a character, and neither is King's husband Larry (Austin Stowell). The script isn't up to the required intimacy. The blandness of the Riseborough and Stowell performances prevents us from reaching King's conflicted emotions. When she sidelines them both to focus on tennis, it doesn't feel like she's giving up much.
For a movie banking on Emma Stone, it oddly doesn't rely on the freshly crowned Oscar winner enough. If you're going to portray King as personally troubled and withdrawn, why not cast a character actor? (Who's this generation's Catherine Keener?) If you're going to cast a movie star, let her be a movie star. Stone's scenes with Pullman are the only ones where you feel the fiery Billie Jean King you see working the talk show circuit today shining, arguing through. Otherwise, its main character remains a bit of a mystery to this movie. We're left to assume we're watching someone compartmentalize her own life pretty well.
It's telling that the film is so much more comfortable with Riggs. It sees right through the two-bit charlatan, and the script loves him for it. Granted, the casting is pitch-perfect, as Carrell has made a career out of playing the graceless buffoon you still come away liking. The script has clear ideas about how to show his pre-comeback boredom too, most especially a scene in which he plays "the floor is lava" with his young son just to keep life interesting. But again, when the movie pulls in close to illuminate his relationship with Priscilla Wheelan, they have the chemistry of strangers.
One of the curiosities of the Battle of the Sexes story is that the rivals didn't directly inflect each other very much. They never meet in private. As always, I'm in favor of embellishing history to draw out character dynamics. We really could have used a scene where Bobby and Billie Jean grab a beer at a deserted hotel lobby and they put their cards on the table. Or maybe Riggs shows up at a late-night King practice to talk trash and she smashes a serve in his direction to let him know this is real for her.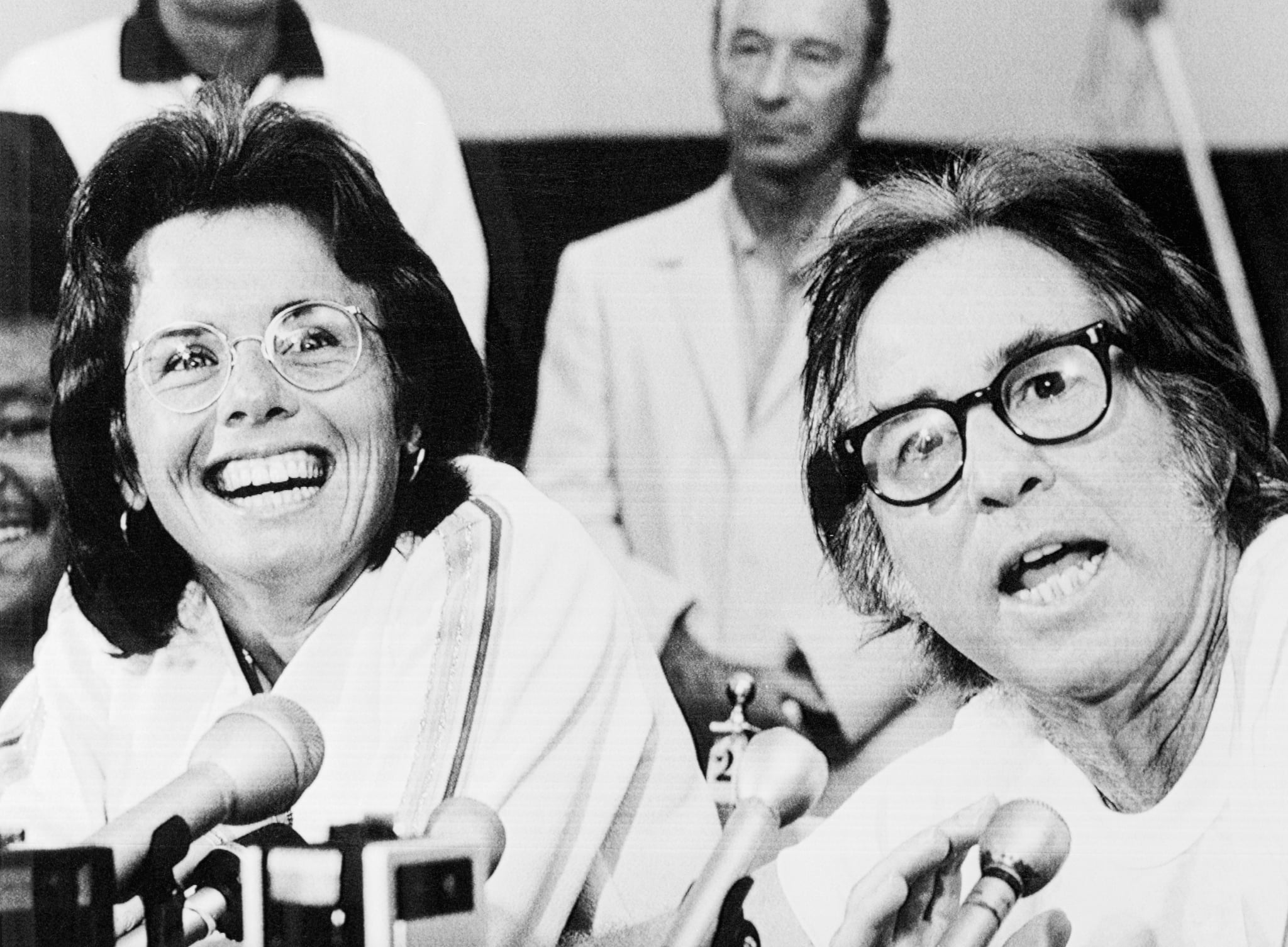 Then, there's the matter of the actual tennis. I'm not sure what the list would be of the best sports movies where the sports aren't very compelling, but Battle Of The Sexes can only vie for a spot on it. (From our podcast oeuvre, Varsity Blues is probably the best movie where the on-the-field action is lukewarm.) You get a feeling the filmmakers would argue for broadcast verisimilitude the way they shoot all the tennis from a full-court wide angle, but it all feels distant and unreachable. It's tough to say whether the limitations that brought about this POV are those of the actors or cinematography, but we never come down to the court for a crushing slow-motion forehand or a cut to tennis shoes taking on grass stains. There's just one sequence in the climactic match where the camera drifts down from its areal view, and it's exhilarating to see real Emma Stone make a play on the ball that real Carell can't reach. But the movie treats this zoom like an accident, drifting up once again for the remainder of the contest. I might have seen this coming in retrospect. The movie goes a ridiculously long time (at least an hour) without showing any tennis.
In its scope, Battle of the Sexes is trying to split the distance between Ali and and A League of Their Own. It's not sure whether to show us the plot through the media monolith or through the characters' banter-happy, but genuine relationships. The cheap tennis metaphor is probably that this film is a ball that hangs on the net and then just dribbles over, either on the fair or foul side depending on whether you know the resolution of this story. If you do, it's a pretty ankle-deep investigation of the cultural event. Many social questions from around the Battle linger untouched: Is the comedy of Riggs in and of itself a privilege? Could King have even afforded to view the match as a joke? Wasn't winning the only option for her when charm is an out for the chauvinist? What was it like to try and be a spouse or lover in 1973 when your career limited your personal bandwidth?
Like many historical films (I'm looking at you, staring at you, Hidden Figures), this outing almost un-enlightens itself from today's questions about history, skating by on the characters and society being comparatively repressed. Those blind spots aren't insidious — many people like Hidden Figures and they won't be wrong for enjoying this movie a bit too — but it's taking the wrong lessons from period pieces. Don't we know now that for the oppressed, there was no such thing as simpler times?
* * *
Editor's note: Here it is in my podcast voice. "It's a good-natured film that's hard to really dislike, but when you add up the boredom, the character imbalances and the inability to compellingly direct the sports, I regretfully offer up a bad-bad."
All Episodes
our favorite movies
all movies
Wait, What is This?
Movie Reviews & Reappraisals
Be Reel is a movie reviewing & reappraising podcast hosted by Chance Solem-Pfeifer and Noah Ballard.
Each time out, we select three movies based around a genre and call up guests ranging from submarine captains to Oscar winners. Then, we rate the movies, weighing both technical quality and entertainment.
Noah and Chance are old friends who mostly respect each other's opinions. Even though Chance is a fool and a traitor. Find their show presented at ThePlaylist.Net and follow them on Twitter for the latest on Noah's literary agenting and Chance's work in the Portland arts scene.