The Films of Dolly Parton
Episode 185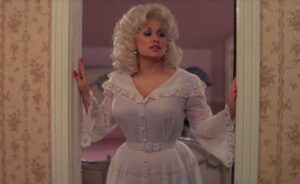 Dolly Parton is a true American icon. For her 75th birthday, we revisit the country superstar and EGOT nominee's three most significant film roles in "9 to 5" (1980), "The Best Little Whorehouse in Texas" (1982), and "Steel Magnolias" (1989).
In each, Parton embodies a heightened yet classical definition of America: she's outspoken, loyal, gun-toting, capitalist to the core, but with an underdog spirit and a sense of freewheeling entrepreneurship.
These films, of course, also celebrate Parton as a musician, often anchoring the movie in the feminist themes and rhinestone theater of her songwriting. Whether standing up to a predatory boss, fighting puritanical morality or searching for meaning in the (then) contemporary South, Parton brings both elation and world-weary savvy to her second career on the big screen.
Also, thank you for helping fund the Moderna vaccine, Dolly; we will alwaaaaaays love you.
All Episodes
our favorite movies
all movies
Wait, What is This?
Movie Reviews & Reappraisals
Be Reel is a movie reviewing & reappraising podcast hosted by Chance Solem-Pfeifer and Noah Ballard.
Each time out, we select three movies based around a genre and call up guests ranging from submarine captains to Oscar winners. Then, we rate the movies, weighing both technical quality and entertainment.
Noah and Chance are old friends who mostly respect each other's opinions. Even though Chance is a fool and a traitor. Find their show presented at ThePlaylist.Net and follow them on Twitter for the latest on Noah's literary agenting and Chance's work in the Portland arts scene.