Once Upon A Time In Hollywood
Episode 132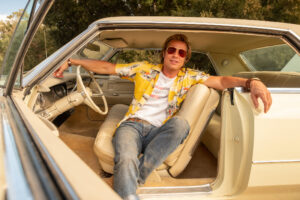 I'll be honest. I think Noah's and my review of The Hateful Eight is one of the strangest we've ever done. And that was 2015. Before #MeToo proper. Before anyone had ever uttered that cursed phrase #FilmTwitter. Already we were bunched up in a Quentin Tarantino-induced knot about a movie I think both of us actually kinda liked. Few outings that year were more compelling, better shot, more viciously acted than that Christmastime blizzard of blood.
But with Tarantino coming off Django Unchained and Noah and me falling off the edges of our youth, we were fretful. Why the persistent bludgeoning of the only woman in the movie, seemingly just for giggles? Why the castration of the only black character? Why, QT. The violence seemed targeted as misbegotten high comedy. Less trying to reach the back row with blood spatter and more trying to dump a specific character's blood on YOU, you easily ruffled viewer.
So it's a weight off the shoulders to say that Once Upon A Time In Hollywood is a different kind of indulgent: unblinking navel-gazing. Certainly, there have been references to the linked Tarantino-verse before, what with his fictional cigarette brand, what with the suggestion that Hitler is exploded in the same universe that Calvin Candie is exploded. But never has Tarantino spent, let's say, 20 minutes taking you inside the making of a 1969 cowboy serial that never existed. It's like a making-of-fake-Bonanza featurette inside his two-hour-forty-five minute love letter to the Hollywood of his childhood.
What's more, the joy of watching the single most important movie star still working today (fight me) in Leonardo DiCaprio carry the water of an idea so, well, boring is transportive. Leo is as committed to portraying this failed figment of Quentin's imagination, the washed-up TV actor Rick Dalton, as he was learning to sew his leg closed in The Revenant.
Rick is a fool in Tarantino's under-recognized gallery of fools—Vincent Vega, Louis Gara, and hell, Hans Landa if the ends make the man. The reasons are simple enough in Rick's case. He's a drunk, a Los Angeles cog, and middle age only makes him more impressionable, as it ironically does many of us. And Rick's creeping unhappiness creeps throughout Hollywood pros of a certain age. Even Steve McQueen is unhappy for god sake. The only ways to avoid it, apparently, are craft and youth.
On the craft side, there's stuntman-turned-handler Cliff Booth (Brad Pitt), who treats pouring his friend Rick into bed at night like a job worth having, just as he does feeding his pitbull Brandy a couple of gelatinous cans of puppy chow or whipping up some mac 'n' cheese for himself. He savors the physical in a way that keeps him sane, if not stainless. As for youth, there's Sharon Tate (Margot Robbie), a gleaming, innocent figure in the eyes of this film, who's surprisingly humanized even as she's utterly archetypal. Robbie barely strings together three lines in the film, but her go-getter heel clicks, the admirable wideness of her eyes make an impression. Without spoiling anything, I think never have the auteur's revenge fantasies given beauty and purpose to a victim. Much as I love Basterds, low though I am on Django—those are tales of scorched earth. Once Upon A Time In Hollywood tells us there's something to live for; there's something worth saving.
Where there's Tate, as you know, there's Manson. And the looming darkness of 1969 is handled in spurts. Cliff's visit to the Manson ranch is on par with the opening of Basterds for sheer, time-freezing tension. The ranch makes for terrific simulacrum as well, as we've just spent the day with Rick on a Western soundstage; now we experience an abandoned film set crumbling back into the actual, hateful West. There's an eerie openness to this world—the speeding sports cars, the day-drinking, the bizarre characters floating in and out of Rick and Cliff's lives—and the realization that at the end of the night everyone will go home and lie vulnerable on their pillow, alone.
The funny thing is, viewers may well like this movie much less than Django, or even Hateful Eight. And maybe it's high time someone as bizarre as QT stopped trying to give us what he thinks we want and just entertain himself. That level of obsession begot Pulp Fiction in the first place—a singular bundle of influences that simply had to be satisfied. With QT now well into his 50s, the creative satisfaction of the 1000-screen mega-plex in his head may not speak to this moment (much as Brad Pitt's abs do.) Instead, they imply boundless ideas about timelines, universes, industry slumming, and a shamelessness about movie history that I welcome. The unfettered mind can be a beautiful thing.
All Episodes
our favorite movies
all movies
Wait, What is This?
Movie Reviews & Reappraisals
Be Reel is a movie reviewing & reappraising podcast hosted by Chance Solem-Pfeifer and Noah Ballard.
Each time out, we select three movies based around a genre and call up guests ranging from submarine captains to Oscar winners. Then, we rate the movies, weighing both technical quality and entertainment.
Noah and Chance are old friends who mostly respect each other's opinions. Even though Chance is a fool and a traitor. Find their show presented at ThePlaylist.Net and follow them on Twitter for the latest on Noah's literary agenting and Chance's work in the Portland arts scene.