Wes Studi and Dale Dickey on Acting Bucket Lists, Typecasting and 'A Love Song'
Episode 218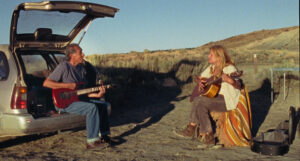 In a rare treat, two unmistakable character actors join the pod: Wes Studi and Dale Dickey. If you don't know their names, you certainly know their indelible faces from movies like "The Last of the Mohicans" and "Winter's Bone." They star together in the tender, dusty new romance film, "A Love Song." Studi and Dickey tell Chance all about finally getting to kiss anyone on screen, plus plenty of talk about acting bucket lists, "Reservation Dogs" and improv battles with Jennifer Lawrence.
All Episodes
our favorite movies
all movies
Wait, What is This?
Movie Reviews & Reappraisals
Be Reel is a movie reviewing & reappraising podcast hosted by Chance Solem-Pfeifer and Noah Ballard.
Each time out, we select three movies based around a genre and call up guests ranging from submarine captains to Oscar winners. Then, we rate the movies, weighing both technical quality and entertainment.
Noah and Chance are old friends who mostly respect each other's opinions. Even though Chance is a fool and a traitor. Find their show presented at ThePlaylist.Net and follow them on Twitter for the latest on Noah's literary agenting and Chance's work in the Portland arts scene.