Gordon Parks: American Legend and Overlooked Filmmaker (feat. Craig Laurence Rice)
Episode 170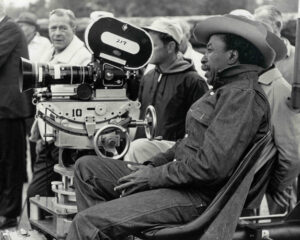 Only in a career as pioneering and storied as Gordon Parks' could an achievement like "first Black Hollywood director" fall into the second paragraph. Yet Parks' significance as a photographer and renaissance man does often overshadow a film career that saw him direct "The Learning Tree" (1969), "Shaft" (1971), and "Leadbelly" (1976). This week, we revisit these too-forgotten cinematic portraits of Black life, joined by director/producer Craig Laurence Rice to discuss the years he spent with Parks making the Emmy-nominated documentary "Half Past Autumn" (2000).
* * *
To support the causes of justice and equality for our Black colleagues, friends, neighbors, and fellow citizens, please consider donating to:
All Episodes
our favorite movies
all movies
Wait, What is This?
Movie Reviews & Reappraisals
Be Reel is a movie reviewing & reappraising podcast hosted by Chance Solem-Pfeifer and Noah Ballard.
Each time out, we select three movies based around a genre and call up guests ranging from submarine captains to Oscar winners. Then, we rate the movies, weighing both technical quality and entertainment.
Noah and Chance are old friends who mostly respect each other's opinions. Even though Chance is a fool and a traitor. Find their show presented at ThePlaylist.Net and follow them on Twitter for the latest on Noah's literary agenting and Chance's work in the Portland arts scene.