He's Your Huckleberry: The Essential Val Kilmer
Episode 163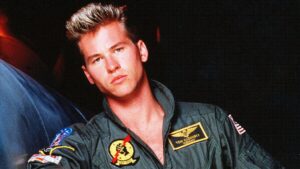 He's been called the Lizard King, the Iceman, the Dark Knight, and is constantly applying for the post of your Huckleberry. Val Kilmer is one of the most fascinating and elusive screen presences of the last 40 years. In the wake of his new memoir, Noah and Chance chronicle the highlights (and a few lowlights) of a roller-coaster career. We know there are far more important issues in the world right now, but we hope you'll come along with us, at least from "Real Genius" to "Kiss Kiss Bang Bang."
You can find our old reviews of "Tombstone" (1993), "Top Secret!" (1984), and "Kiss Kiss Bang Bang" (2005) at the links!
All Episodes
our favorite movies
all movies
Wait, What is This?
Movie Reviews & Reappraisals
Be Reel is a movie reviewing & reappraising podcast hosted by Chance Solem-Pfeifer and Noah Ballard.
Each time out, we select three movies based around a genre and call up guests ranging from submarine captains to Oscar winners. Then, we rate the movies, weighing both technical quality and entertainment.
Noah and Chance are old friends who mostly respect each other's opinions. Even though Chance is a fool and a traitor. Find their show presented at ThePlaylist.Net and follow them on Twitter for the latest on Noah's literary agenting and Chance's work in the Portland arts scene.