Inspirational Teacher Dramas (feat. Micia Mosely & Kia Walton)
Episode 171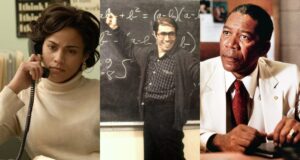 As we enter the most fraught back-to-school season in recent memory, Be Reel looks back at Hollywood's conception of underserved students and the inspirational educators who rescue their learning. This week, it's "Stand and Deliver" (1988), "Lean On Me" (1989), "Dangerous Minds" (1995), and "Precious" (2009).
Joining us are Dr. Micia Mosely and Kia Walton from Black Teacher Project to discuss 2020 classrooms, ideas for improved and updated teacher movies, and their organization's mission to develop and sustain more Black teachers (36:55).
Learn more and donate at BlackTeacherProject.org.
All Episodes
our favorite movies
all movies
Wait, What is This?
Movie Reviews & Reappraisals
Be Reel is a movie reviewing & reappraising podcast hosted by Chance Solem-Pfeifer and Noah Ballard.
Each time out, we select three movies based around a genre and call up guests ranging from submarine captains to Oscar winners. Then, we rate the movies, weighing both technical quality and entertainment.
Noah and Chance are old friends who mostly respect each other's opinions. Even though Chance is a fool and a traitor. Find their show presented at ThePlaylist.Net and follow them on Twitter for the latest on Noah's literary agenting and Chance's work in the Portland arts scene.