The Underwater Alien Films of 1989
Episode 133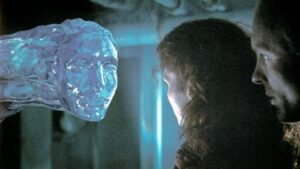 Every so often a "Be Reel" category arises that makes us wonder if we didn't unknowingly orchestrate the films ourselves, solely to podcast about them later. Today we discuss three films all from 1989 about deep-sea divers encountering alien life. While James Cameron's "The Abyss" is the headliner (happy 30th this week), "DeepStar Six" and "Leviathan" may have their lower budget charms as well. In addition to evaluating all the mining teams and goofy beasts of this genre, we mostly ask, "What the hell were you thinking, 1989?"
Be Reel is brought to you by California College of the Arts' Writing MFA program. Learn more at cca.edu/writingmfa.
All Episodes
our favorite movies
all movies
Wait, What is This?
Movie Reviews & Reappraisals
Be Reel is a movie reviewing & reappraising podcast hosted by Chance Solem-Pfeifer and Noah Ballard.
Each time out, we select three movies based around a genre and call up guests ranging from submarine captains to Oscar winners. Then, we rate the movies, weighing both technical quality and entertainment.
Noah and Chance are old friends who mostly respect each other's opinions. Even though Chance is a fool and a traitor. Find their show presented at ThePlaylist.Net and follow them on Twitter for the latest on Noah's literary agenting and Chance's work in the Portland arts scene.