Remembering Bollywood Icon Irrfan Khan (feat. Mallika Rao)
Episode 161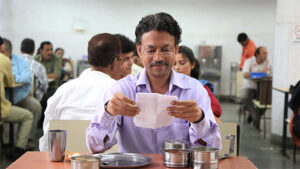 Hollywood and Bollywood both suffered an incalculable loss last month with the untimely passing of actor Irrfan Khan. Known to American audiences for his character work in "Life of Pi" and "Jurassic World", the icon in India spent 30 years embodying quiet masculinity in chameleonic performances, notably: "Paan Singh Tomar" (2012), "The Lunchbox" (2013), and "Piku" (2015). To start the show, Chance is joined by Vulture contributor Mallika Rao to discuss Khan's career and her tremendous remembrance of the actor, which you can read below.
www.vulture.com/2020/05/the-undef…-irrfan-khan.html
All Episodes
our favorite movies
all movies
Wait, What is This?
Movie Reviews & Reappraisals
Be Reel is a movie reviewing & reappraising podcast hosted by Chance Solem-Pfeifer and Noah Ballard.
Each time out, we select three movies based around a genre and call up guests ranging from submarine captains to Oscar winners. Then, we rate the movies, weighing both technical quality and entertainment.
Noah and Chance are old friends who mostly respect each other's opinions. Even though Chance is a fool and a traitor. Find their show presented at ThePlaylist.Net and follow them on Twitter for the latest on Noah's literary agenting and Chance's work in the Portland arts scene.