Tom Hanks Is The Captain, Always
Episode 168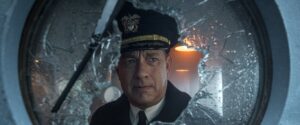 When it comes to being an on-screen mariner, Tom Hanks takes his orders from no one. To celebrate his recent birthday and the release of the new WWII submarine movie "Greyhound" (2020), Chance and Noah dive into the boat-bound roles of Hanks' storied career. That means "Splash" (1984), "Sleepless In Seattle" (1993), "Cast Away" (2000), "Captain Phillips" (2013), and then "Greyhound." Can the guys craft a coherent thesis as to why Hanks keeps choosing the water as his co-star? Permission to come aboard.
* * *
To support the causes of justice and equality for our Black colleagues, friends, neighbors, and fellow citizens, please consider donating to:
All Episodes
our favorite movies
all movies
Wait, What is This?
Movie Reviews & Reappraisals
Be Reel is a movie reviewing & reappraising podcast hosted by Chance Solem-Pfeifer and Noah Ballard.
Each time out, we select three movies based around a genre and call up guests ranging from submarine captains to Oscar winners. Then, we rate the movies, weighing both technical quality and entertainment.
Noah and Chance are old friends who mostly respect each other's opinions. Even though Chance is a fool and a traitor. Find their show presented at ThePlaylist.Net and follow them on Twitter for the latest on Noah's literary agenting and Chance's work in the Portland arts scene.