Choosing Cabin Fever In Robin Wright's 'Land'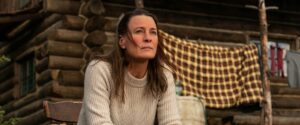 Despite launching her career as an everlasting beacon of charm and innocence in The Princess Bride, Robin Wright has made antagonistic, desirous, put-upon characters her niche. From Forrest Gump to Blade Runner 2049 to Unbreakable to House of Cards, she thrives in expressing an intertwined sense of victimhood and selfishness that would send most movie stars fleeing the opposite way. Don't argue with the results, though. There's a reason Claire Underwood was always vastly more interesting than Frank.
For her directorial debut, the 54-year-old Wright takes on a similar gauntlet as Edee, a grieving woman who confines herself to a remote Montana shack. While Land doesn't serve up the cause of Edee's pain, it's quickly obvious that lost family has pushed her into repressed isolation. Unfortunately, the opening dialogue explaining her reasoning is better than any of the character work to follow: "It's difficult to be around people because they want me to be better," Edee admits to her therapist before rejecting help from her sister (Kim Dickens), ditching her phone, and literally heading for the hills.
What follows is a capably made but often frustrating survival movie, in part because Land bungles the heavily implied possibility that Edee doesn't actually wants to live. Her seclusion is rife with contradictions that don't need to be solved exactly, but also just don't square in this film's rather distant study of one human being. Jesse Chatham and Erin Dignam's script sees Edee pack a year's worth of canned food and outdoor supplies. She also buys the shack from an in-town realtor. There's plenty of planning here. But she's also essentially chosen a kind of bourgeois death sentence by living in an unreachable hovel with no electricity, no car, no water and no heat. Vast swaths of the movie are studies of Wright's sharp, implacable face as she attempts difficult woodland tasks with a joyless focus that undermines the character's half-hearted premeditation of a hermit's life. She's like Chris McCandless, minus the philosophical convictions, but plus one spending spree at a Bass Pro Shop.
Land ultimately tries to forget that conundrum by settling for an inner peace narrative. At her lowest, Edee is rescued by a kindly hunter called Miguel (Demián Bichir). Though his performance is similarly (and admirably) restrained to Wright's, the role Miguel fills is of nature expert and bushy spiritual advisor. Their central relationship pushes Land suspiciously into the realm of "white lady learns to appreciate life through a privilege check." I don't find that narrative reprehensible necessarily, but it's both Hollywood stock and pretty damn simple redemption for a character who kicked off the movie discussing her relationship to other humans with sociopathic calm and remove.
As a director, Wright certainly makes a meal of the Big Sky scenery, and she also demonstrates skill in capturing supporting characters' wary responses to Edee, the small gestures of worry or frustration spurred by friendly locals realizing they can't trust this stranger for human connection, even as she's perfectly vocal and polite. And those are Wright's well-practiced movie star instincts sneaking in the side door. She won't make herself look great, but she will feed other characters intriguing glances and grumbles that add extra significance to her acting.
Ultimately, Land is a story so bare it desperately needs a staunch realist, like Eliza Hittman or a Chloe Zhao, to draw out the graceful and graceless elements of everyday life. I think we should all welcome Robin Wright playing thorny, complicated characters for another two decades, but her story sense is muddled here. Land maroons a deeply unsentimental person inside a highly sentimental framework.
All Episodes
our favorite movies
all movies
Wait, What is This?
Movie Reviews & Reappraisals
Be Reel is a movie reviewing & reappraising podcast hosted by Chance Solem-Pfeifer and Noah Ballard.
Each time out, we select three movies based around a genre and call up guests ranging from submarine captains to Oscar winners. Then, we rate the movies, weighing both technical quality and entertainment.
Noah and Chance are old friends who mostly respect each other's opinions. Even though Chance is a fool and a traitor. Find their show presented at ThePlaylist.Net and follow them on Twitter for the latest on Noah's literary agenting and Chance's work in the Portland arts scene.