'Ford v Ferrari' is Actually a Tale of Goliath Fighting Himself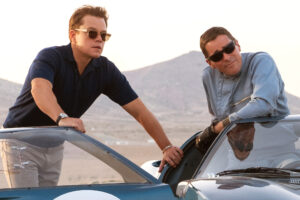 It's been an unkind autumn to 50-year-old movie stars hoping to galvanize audiences by making 'em like they no longer make 'em, brother.
Even in the year of Our Lord Brad Pitt, Ad Astra didn't exactly burn down the house. With its cloning idea from 1998 literally and figuratively, Gemini Man was a financial disaster that the more optimistic among us faintly praised for its technical ambition. Then, Edward Norton spoke with seemingly every living cinephile about how Motherless Brooklyn owed a great debt to Chinatown and Reds. (It has not resulted in him making back the film's budget.)
Enter Ford V. Ferrari—the loudest, proudest dinosaur of the bunch, which already carries with it an extra aura of fatal obsolescence as the last Fox-produced title before the Disney merger. With James Mangold (Logan, 3:10 To Yuma) at the wheel and a sometimes redundant two-hander of Matt Damon and Christian Bale on the poster, the calculus here seems to be if Ford V Ferrari can just distill Dad Cinema purely enough, the world will be reminded it actually likes this kind of movie.
And it is a pure distillation. White, straight American men doing tough stuff, loving their wives, teaching their kids, gunning their cars, not thinking very hard about it, fighting the system even while getting rich off the system. Ford V. Ferrari is a sleek, classic-model sports drama that aims to dazzle with its production value and send the audience home happy, appreciating movie stars in that vague, uncritical and bygone way … "Boy, that Matt Damon. I really like him in movies."
Of course, there's a double-edged sword to giving the dads what they want. The all-too-easy marriage of topflight execution with total predictability lands Ford V Ferrari exactly where it doesn't want to be in my mind. You have a movie that anyone can tell by the trailer is a friendly, clap-you-on-the-back B+. Old reliable. Incredibly easy not to go see in a theater. Cinderella Man on wheels.
I'll admit, opening the review this way makes me feel a bit like a cynical twerp. Ford V Ferrari is a good movie in most respects. Damon struts with incredible ease as former 24 Hours of Le Mans winner and heroic car designer Carroll Shelby. And down every single pound of the Dick Cheney weight, Bale is surprisingly likable as driver Ken Miles. His British accent is … normal? He yells antagonistic but not cruel things at his fellow racers like, "Not today, you bugger!" In fact, the movie's biggest lapse in focus is in not diving deep with Miles. As always, Bale's performance suggests a dark interior this movie isn't particularly interested in. 
More severe problems arise from creeping imbalances between fact and theme. When it comes to Le Mans at least, Ferrari is our Goliath and Ford is our David. But wait. That's like making a movie about how LeBron James is an underdog in lacrosse. In every other respect—most notably making the racecar—Ford is an unwieldy Goliath. The movie is wise enough to acknowledge that red tape within the company is the primary antagonist to spiritual cowboys like Shelby and Miles making the iron horse they know to be best. But as Ferrari almost immediately fades to the back of this story, we're left to wonder why these mavericks make concession after concession for Henry Ford II, or "The Deuce" as the Tracy Letts character is wonderfully referred to. Is the theme of this movie really "toe the company line?" It can't be, right? (Also, if you've seen the movie, you know it ends with one inescapable historical fact that FvF simply doesn't set up very well.)
The positives are many in number: Miles' brakes deforming into flaming liquid is mind-bogglingly cool. I absolutely believe Miles and Shelby are two sides of the same coin. I commend Jon Bernthal for finally playing a character (Lee Iacocca!) who does not die before the movie starts. Letts is excellent. And it is always a fun litmus to see if actors can convince you if they are experts in something you know nothing about. Bale leaping from Miles' test car after every dry run and chastising the crew that they need to cut weight and add power does exactly that.
In the end, Ford V Ferrari is a movie about breaking rules, defying expectations, betting on yourself that has none of those things in its DNA. It's just cruising, and cruising isn't how you keep a genre alive. It's how you unwittingly aid its slow death.
Why can't I be happy with what I have? Ask my dad. B+.
All Episodes
our favorite movies
all movies
Wait, What is This?
Movie Reviews & Reappraisals
Be Reel is a movie reviewing & reappraising podcast hosted by Chance Solem-Pfeifer and Noah Ballard.
Each time out, we select three movies based around a genre and call up guests ranging from submarine captains to Oscar winners. Then, we rate the movies, weighing both technical quality and entertainment.
Noah and Chance are old friends who mostly respect each other's opinions. Even though Chance is a fool and a traitor. Find their show presented at ThePlaylist.Net and follow them on Twitter for the latest on Noah's literary agenting and Chance's work in the Portland arts scene.