Gerwig's 'Little Women' Thoughtfully Highlights Adult Compromises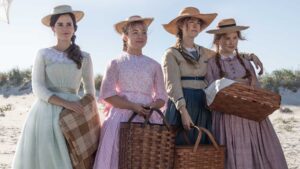 Coming out of the biographical specificity of Lady Bird (2017), it took me about an hour to accept that Greta Gerwig directs a fairly formalized piece of source material in Louisa May Alcott's Little Women. Jo March (Saoirse Ronan) will always seem 1860s-writerly in her ambitions, Marmee March (Laura Dern) will always be unconditionally affectionate, Meg (Emma Watson) will always care about debutante balls, Beth (Eliza Scanlen) will always be an angel of a character we barely know. There will always be a sunny directness in how they largely communicate, as Gerwig stays faithful to the in-scene rhythms and rapports of the novel.
To expect otherwise, I suppose, is silly. She intends to honor a timeless piece of writing with modern inflections. And it's on the audience to take note of these inflections where they live. And they are in there. Watch a scene from the 1994 version and see their manners cause the characters to stand further apart in their perceptions of each other. Laurie (played there by Christian Bale) is wide-eyed at Jo's wanting to be a writer. She's positively chipper at the thought of his knowing about Europe. In Gerwig's script, a far sharper sense of knowing infiltrates every character. Timothee Chalamet's Laurie is a more seductive and winning character because he plays out the underlying knowledge that Jo doesn't love him and confesses his love anyway. Meg knows she is signing up for a life of relative poverty she doesn't want. And Amy (Florence Pugh, who gives the performance of the movie) transforms an adolescent shrewdness for getting what she wants into a more practical sense of cunning for navigating a cynical world of wealth and survival.
Gerwig's biggest swing is in folding the quietly epic arc of the seven-year Little Women story in on itself. Two timelines unfold, one from the blissful youth of the March sisters and the other from a darker point of separation—Jo is struggling to publish in New York, Amy is chiding a heartbroken Laurie in France, Meg can't afford dress fabric and Beth is deathly ill. At first, the bifurcated timelines may strike the viewer as a little much; they render the girls' happy youths a little superfluous-seeming. Why show a childhood in its supposed simplicity when you just showed me two minutes ago that she'll soon be sobered and disappointed?
But this is how Gerwig generates that aforementioned sense of knowing, and, ultimately, hers is an adult take on the March crew. The way they'll fight off the pigeonholes, money pits and rejections of the world take centerstage while the runway of childhood is more for sheer character-building. The point of Jo's fiery determination is not her untested flame, but rather how she channels it into both the successes and failures of her youth.
Herein Gerwig finds her reason for retelling a story adapted so many times before. With nuance, she rearranges the old narrative with new emphases on the professional, parental and identity concerns of the fully formed Marches. The relationship between promise, results, and compromises takes on new meaning when juxtaposed together. (A revisionist coda that I won't spoil here really drives the point home.)
Gerwig's Little Women is thoughtfully told and beautifully reimaged, disproving Tolstoy's old axiom about the sameness of happy families.
All Episodes
our favorite movies
all movies
Wait, What is This?
Movie Reviews & Reappraisals
Be Reel is a movie reviewing & reappraising podcast hosted by Chance Solem-Pfeifer and Noah Ballard.
Each time out, we select three movies based around a genre and call up guests ranging from submarine captains to Oscar winners. Then, we rate the movies, weighing both technical quality and entertainment.
Noah and Chance are old friends who mostly respect each other's opinions. Even though Chance is a fool and a traitor. Find their show presented at ThePlaylist.Net and follow them on Twitter for the latest on Noah's literary agenting and Chance's work in the Portland arts scene.