The Talented Mr. Ripleys
Episode 143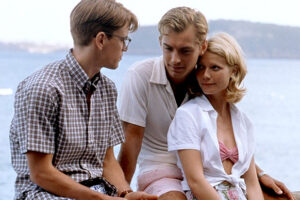 This week, Chance and Noah dare to ask a question posed by many conned, spurned and murdered Patricia Highsmith characters: "Who are you, Tom Ripley?" As we celebrate the 20th anniversary of Anthony Minghella's seminal Matt Damon vehicle "The Talented Mr. Ripley," we seek out the character's origins in the acclaimed Highsmith novels and the many resulting film adaptations. In addition to the 1999 American hit, we're watching 1977's "The American Friend" (dir. by the great Wim Wenders) and 2002's "Ripley's Game" starring John Malkovich.
If you like your con artists with a side of sexual frustration and sun-soaked coasts, press play.
All Episodes
our favorite movies
all movies
Wait, What is This?
Movie Reviews & Reappraisals
Be Reel is a movie reviewing & reappraising podcast hosted by Chance Solem-Pfeifer and Noah Ballard.
Each time out, we select three movies based around a genre and call up guests ranging from submarine captains to Oscar winners. Then, we rate the movies, weighing both technical quality and entertainment.
Noah and Chance are old friends who mostly respect each other's opinions. Even though Chance is a fool and a traitor. Find their show presented at ThePlaylist.Net and follow them on Twitter for the latest on Noah's literary agenting and Chance's work in the Portland arts scene.