Dolly de Leon on Her Life-Changing 'Triangle of Sadness' Performance
Episode 224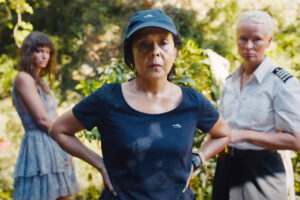 It's rare for a journey-woman actor to suddenly garner an international spotlight in her 50s, but equally rare to grab a film by the horns the way Dolly de Leon does in "Triangle of Sadness." The Golden Globe-nominated de Leon swung by the podcast to talk about crafting character backstory that altered Ruben Östlund's biting, hysterical script and how starring in a Palme d'Or winner changes her career. "Triangle of Sadness" is on VOD now and highly recommended.
All Episodes
our favorite movies
all movies
Wait, What is This?
Movie Reviews & Reappraisals
Be Reel is a movie reviewing & reappraising podcast hosted by Chance Solem-Pfeifer and Noah Ballard.
Each time out, we select three movies based around a genre and call up guests ranging from submarine captains to Oscar winners. Then, we rate the movies, weighing both technical quality and entertainment.
Noah and Chance are old friends who mostly respect each other's opinions. Even though Chance is a fool and a traitor. Find their show presented at ThePlaylist.Net and follow them on Twitter for the latest on Noah's literary agenting and Chance's work in the Portland arts scene.