Am I Watching Your Divorce? (feat. Lila Shapiro)
Episode 131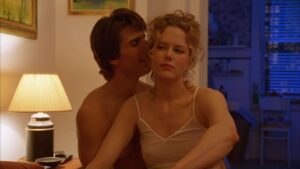 This week, we examine the ample evidence for why you shouldn't try to save your marriage with a movie. Chance and Noah check in with "Eyes Wide Shut" (1999) as the infamous Stanley Kubrick-directed interrogation of Tom Cruise and his marriage to Nicole Kidman turns 20.
We also look back at the lovechild of "Liz" Taylor and "Dick" Burton, "Who's Afraid of Virginia Woolf?" (1966) and the honeymoon-cum-couples therapy "By The Sea" (2015), which self-analyzes Angelina Jolie and Brad Pitt's sinking ship of a union.
New York Magazine's Lila Shapiro joins the show (26-minute mark) to discuss seeing "Eyes Wide Shut" 100 times and how the movie resonates with Jeffrey Epstein's horrifying crimes.
Be Reel is brought to you by California College of the Arts' Writing MFA program. Learn more at cca.edu/writingmfa.
All Episodes
our favorite movies
all movies
Wait, What is This?
Movie Reviews & Reappraisals
Be Reel is a movie reviewing & reappraising podcast hosted by Chance Solem-Pfeifer and Noah Ballard.
Each time out, we select three movies based around a genre and call up guests ranging from submarine captains to Oscar winners. Then, we rate the movies, weighing both technical quality and entertainment.
Noah and Chance are old friends who mostly respect each other's opinions. Even though Chance is a fool and a traitor. Find their show presented at ThePlaylist.Net and follow them on Twitter for the latest on Noah's literary agenting and Chance's work in the Portland arts scene.