High School Seniors Shoot Their Shot
Episode 127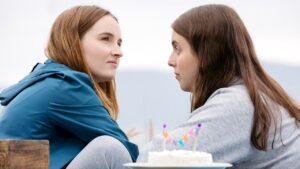 With college looming, there's a certain class of high-school comedy that races the clock. This week, Chance and Noah watched "Booksmart" (2019) "Superbad" (2007) and "Can't Hardly Wait" (1998) for a trio of movies about graduating seniors with one last chance to ace their social lives. Big questions include:
Does the women-led "Booksmart" strike the balance between heightened comedy and teenage truth?
Does "Superbad" fall victim to the general yuck of the 17-year-old boy?
Why in god's name do the protagonists of "Can't Hardly Wait" not know each other?
What really happened the night Noah and McLovin cruised into Downtown Lincoln, Nebraska?
Be Reel is brought to you by California College of the Arts' Writing MFA program. Learn more at cca.edu/writingmfa.
All Episodes
our favorite movies
all movies
Wait, What is This?
Movie Reviews & Reappraisals
Be Reel is a movie reviewing & reappraising podcast hosted by Chance Solem-Pfeifer and Noah Ballard.
Each time out, we select three movies based around a genre and call up guests ranging from submarine captains to Oscar winners. Then, we rate the movies, weighing both technical quality and entertainment.
Noah and Chance are old friends who mostly respect each other's opinions. Even though Chance is a fool and a traitor. Find their show presented at ThePlaylist.Net and follow them on Twitter for the latest on Noah's literary agenting and Chance's work in the Portland arts scene.