Bruce Lee at 80: The Dragon's Unmatched Films, Influence and Afterlives (feat. Jeff Chang & Lory Dance)
Episode 179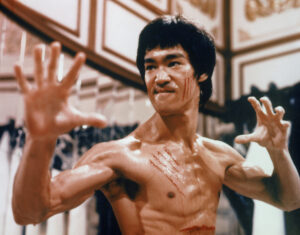 Ahead of Bruce Lee's (would-be) 80th birthday, Be Reel marvels at the spinning kicks, inimitable shrieks, and star wattage of the global icon.
This week, we dive into the Dragon's fascinating life and numerous afterlives with the help of Lee biographer Jeff Chang ("Can't Stop Won't Stop") and sociology professor / Tae Kwon Do black belt Lory Dance.
Our official titles this week are "Fist of Fury" (1972), "Way of the Dragon" (1972), and "Enter The Dragon" (1973," but we make ample pitstops. Chang and Dance help us understand Lee's formative years in Seattle, his complex identity as an immigrant and celebrity, and his evolving generational impact in the nearly 50 years since his tragic death.
With Chang's book still forthcoming, we'd strongly recommend his Criterion Collection essay on Lee from this summer. And if you're lucky, you might one day catch Dance lecturing on "intersectional-LEE-ty." Listen below, and happy birthday to a legend.
All Episodes
our favorite movies
all movies
Wait, What is This?
Movie Reviews & Reappraisals
Be Reel is a movie reviewing & reappraising podcast hosted by Chance Solem-Pfeifer and Noah Ballard.
Each time out, we select three movies based around a genre and call up guests ranging from submarine captains to Oscar winners. Then, we rate the movies, weighing both technical quality and entertainment.
Noah and Chance are old friends who mostly respect each other's opinions. Even though Chance is a fool and a traitor. Find their show presented at ThePlaylist.Net and follow them on Twitter for the latest on Noah's literary agenting and Chance's work in the Portland arts scene.