'Night House': In The Middle Of Our Grief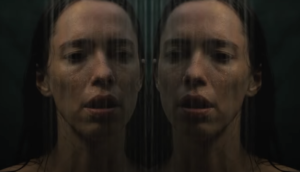 In this golden age of so-called "elevated horror," discourse often focuses on two ideas. First, there's the foregrounding of politics, sometimes even ahead of scares, in a post-Get Out world. (That's no fault of Get Out in my opinion, just lazy film criticism.) And second, there's blowback from horror heads who view the Ari Asters, Luca Guadagninos, even Robert Eggers of the world (or maybe just A24?) as disrespecting the genre's proud legacy of viscera and co-opting the horror movie for high-minded drama in disguise.
The Night House falls somewhere between these two points by complicating its gender politics and smoothing out its atmosphere into something with the studio polish of Frank Darabont, while still eluding literal meaning and straight-ahead scares almost entirely.
The setup of director David Bruckner's new film is a simple haunting (probably far simpler than his forthcoming Hellraiser remake). A widow grieves in the tawny but creepy lakeside house her dead husband built for them. This was a house begging to be haunted. Congratulations, house. Still, Rebecca Hall's wholesale lead performance immediately dresses up the trauma of losing a spouse into a prickly obsession. Spurred by vivid dreams, Beth (Hall) fixates on Owen's phone, his floor plans for the home, their old videos, looking for anything that explains his sudden demise.
Hall has never been better than in slightly drawn, sarcastic and unhinged middle-age. Beth toys with other characters' feeble attempts at consolation like a wounded cat. There's a wildness in the eyes of an actress who's so often shuffled into wifey roles for a sense of everywoman steadiness. (I would certainly enjoy Hall more in Transcendence if Johnny Depp's character was just dead the whole time.) It's like an entire career of not having Anne Hathaway's doe eyes or Jessica Chastain's razor face is upended by Hall's commitment to this horror yarn about how life's meaningless traumas can set a person perversely free.
And while there's a wisp of Leigh Whannell's The Invisible Man to this study of another lonely woman haunted to sanity's edge by a bad man (apparition or not), perhaps this fairly slow film's best move is in its more compromising adult themes. This marriage between Beth and Owen, argues The Night House at surprising junctures, was a safe haven, no matter how dishonest. I have no qualms about keeping things vague in this respect because The Night House is an extremely vague movie to begin with. It certainly shares DNA with Aronofsky's Mother! and yet that madhouse allegory was actually more readable due to its cavalcade of Judeo-Christian symbology overtaking any reading of the movie as literal. The Night House, by contrast, suggests four different twists worthy of a mid-career M. Night Shyamalan flop but affirms none of them. Even Bruckner's directing of ghostly moments is mostly suggestive. The Night House (I now find myself realizing it's never referred to in the film as such) shifts into ghoulish shapes in ways more intense, more "did I really just see that?" than actually frightening.
It's a contemplative movie not afraid to trail off into poetic, political, philosophical nothingness as its lead character unravels a mystery that may be a dream, which may be real to her, but maybe that doesn't matter. If you predicted I'm describing a good-bad with a great performance at the center, you have won one free weekend of lodging at the Night House.
All Episodes
our favorite movies
all movies
Wait, What is This?
Movie Reviews & Reappraisals
Be Reel is a movie reviewing & reappraising podcast hosted by Chance Solem-Pfeifer and Noah Ballard.
Each time out, we select three movies based around a genre and call up guests ranging from submarine captains to Oscar winners. Then, we rate the movies, weighing both technical quality and entertainment.
Noah and Chance are old friends who mostly respect each other's opinions. Even though Chance is a fool and a traitor. Find their show presented at ThePlaylist.Net and follow them on Twitter for the latest on Noah's literary agenting and Chance's work in the Portland arts scene.