Spike Lee's 'Da 5 Bloods'
Episode 164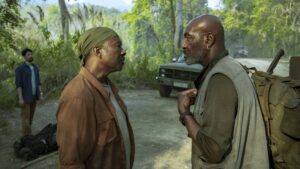 Spike Lee is back and streaming with his latest, "Da 5 Bloods," an homage to Black Vietnam War vets by way of "The Treasure of the Sierra Madre." Delroy Lindo gives the performance of his career as one of four vets who return to Vietnam to retrieve their fallen friend's body and also the pile of gold they hid on their final tour. Chance and Noah break down the unexplored legacy of Black GIs and their diverging politics, now 50 years later, in the Trump era, as well as the hallmarks of a topflight auteur teaming with Netflix.
To support the causes of justice and equality for Black Americans in these times, please consider donating to:
All Episodes
our favorite movies
all movies
Wait, What is This?
Movie Reviews & Reappraisals
Be Reel is a movie reviewing & reappraising podcast hosted by Chance Solem-Pfeifer and Noah Ballard.
Each time out, we select three movies based around a genre and call up guests ranging from submarine captains to Oscar winners. Then, we rate the movies, weighing both technical quality and entertainment.
Noah and Chance are old friends who mostly respect each other's opinions. Even though Chance is a fool and a traitor. Find their show presented at ThePlaylist.Net and follow them on Twitter for the latest on Noah's literary agenting and Chance's work in the Portland arts scene.