The Alien Franchise: Part One (feat. Kevin Lincoln & Josephine Livingstone)
Episode 62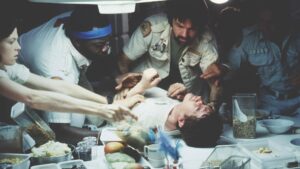 The Alien franchise's five-decade journey has crossed genres, intersected the careers of preeminent filmmakers and wavered wildly from classic to culty to catastrophic. With the recent release of the disturbing and philosophical "Alien: Covenant," we set out to reappraise all the chest-bursting and face-hugging in Part One of our franchise retrospective. [Find Part Two here.] A couple terrific writers joined us, and their "Covenant" pieces are linked below.
2:02 – Noah and Chance give some franchise background, and Noah wonders why "Covenant" is two movies.
14:15 – Vulture's Kevin Lincoln joins the show to discuss what contemporary franchises can learn from the villainous android David.
29:10 – Chance stands up for the headiness of "Covenant" and Noah makes a superb "Frasier" comparison.
38:00 – The New Republic's Josephine Livingstone stops by to assess the role of androids in the franchise and their centrality to the new film.
54:10 – Your hosts try to identify if there's anything wrong at all with 1979's "Alien."
1:04:20 – A disagreement ensues about whether "Aliens" deserves classic status like its predecessor.
*Subscribe to the show on Apple Podcasts, SoundCloud or Stitcher. And if you want to read Chance's PopMatters essay on "Alien: Covenant", it's here.
All Episodes
our favorite movies
all movies
Wait, What is This?
Movie Reviews & Reappraisals
Be Reel is a movie reviewing & reappraising podcast hosted by Chance Solem-Pfeifer and Noah Ballard.
Each time out, we select three movies based around a genre and call up guests ranging from submarine captains to Oscar winners. Then, we rate the movies, weighing both technical quality and entertainment.
Noah and Chance are old friends who mostly respect each other's opinions. Even though Chance is a fool and a traitor. Find their show presented at ThePlaylist.Net and follow them on Twitter for the latest on Noah's literary agenting and Chance's work in the Portland arts scene.