'Yesterday' Isn't Half The Film It Wants To Be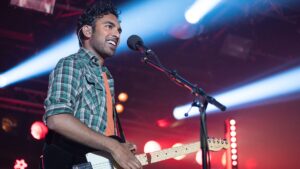 If you're walking into a movie in which the global power grid blips and the entire world—save one man—forgets The Beatles ever existed, ready yourself for cornballery. That's not to mention the presence of Love Actually and Notting Hill scribe Richard Curtis, the Fab Four's poppiest fare, and Lily James ranking among the world's cutest humans. It's not a movie about Joy Division; some sap is mandatory. 
Yet the particular rut in which Yesterday finds itself is between the confectionary and the depressing, between the impulse to say something massive and the sweet, effective oblivion of saying nothing at all (a balance no one sustained quite like The Beatles). There's a four-beat fable here dressed up as a concept album and a Charlie Kaufman brain teaser dumbed down into a hummable pop tune. And many of the movie's most admirable attributes only confuse the issue. 
For one, why The Beatles? Jack Malik—the Suffolk, England shelf stocker and struggling singer-songwriter—seems to like the band well enough before he's the only person on earth who remembers their music. But he's not a fanatic. Judging from his bedroom posters, he may like The Killers and The Fratellis more. So when passing off Beatles standards as his own becomes Jack's destiny we're left to wonder, was it really? A more confusing unanswered question follows: what kind of artist abandons his own art at the drop of a hat to claim authorship of other people's songs? 
Even if the script doesn't, newcomer Himesh Patel seems to understand this quandary and creates a backstop for it in his commendable performance. He plays Jack as burned out upon our meeting him: likable enough to pull off the movie's rom-com elements but with the spiritual rot of an unfulfilled 29-year-old who's tired of his friends' jokes, of his parents' chatter, of the roomy silence at the end of an ill-attended pub gig. Frankly, he needs to grow up. There's a beautiful friend and supporter at his side in Ellie (Lily James) if he'd just pay her some mind. Instead, the movie feeds Jack an opportunity to be a child, to belt out "she loves you yeah-yeah-yeah" with the glee of a teen who actually wrote it. But he didn't … why does a bloke this jaded love The Beatles' sugariest ditties so much? More on that idea in a second.
Director Danny Boyle also complicates matters. The frenetic visualist behind Trainspotting and 28 Days Later shines in certain creative sequences. Jack clawing to remember the words to "Eleanor Rigby" unfolds to glitching faux-B-roll of a silent Father McKenzie maybe darning his socks, maybe penning his sermon. Moments like these suggest a Beatles feast, a trance, a gag, something transportive that never comes to fruition. Instead, when Yesterday falls back on its hacky rom-com requirements, it topples into them: the paper-thin third man in the way of Jack and Ellie confessing their feelings, the goofy sidekick (Joel Fry) who's an airhead until the exact moment he's profound, the entertainment industry portrayal (Kate McKinnon and Lamorne Morris dripping with greed) that's ridiculous without being satirical. All those contrivances would go down easier (hello, Nancy Meyers-verse) if the movie didn't take itself so seriously. 
This goes to the film's supposed affection for The Beatles. In a light spoiler that amounts to almost nothing, Coca-Cola also goes missing from this universe after the blackout. That's fitting. If any 20th-century iconography needs blind celebration less than The Beatles, it's Coca-Cola. Without the intention to meaningfully unpack our loudest cultural signifiers, why bring them up at all? Yesterday makes no observations on the famous variances in The Beatles discography, in their songwriting voices, on the fact that their influence defined a specific era and continues, in part, because of our fixation with that era. Truly, the movie's funniest, smartest 10 minutes is a brief section when no one cares about Jack's "new songs." That feels right; how far would "Hey Jude" really turn your head if the rest of popular music still existed? 
Most importantly, if you really love something, you know when to take the piss out of it. And Yesterday has the audacity to declare Beatles songs are uniformly God-given, fated to exist in any universe and that people would love them as much in 2019 (performed in bright, unadventurous The Voice style) as in 1964 from four people redefining rock music. In doing so, Boyle and Curtis turn the charming ludicrousness of a jukebox musical into almost pompous rhetoric, at least dotted with a lovesick cuteness. It's the highest-minded fable you'll ever see about a tortured karaoke singer, a testament to over-thinking without thinking.
-review by Chance Solem-Pfeifer
All Episodes
our favorite movies
all movies
Wait, What is This?
Movie Reviews & Reappraisals
Be Reel is a movie reviewing & reappraising podcast hosted by Chance Solem-Pfeifer and Noah Ballard.
Each time out, we select three movies based around a genre and call up guests ranging from submarine captains to Oscar winners. Then, we rate the movies, weighing both technical quality and entertainment.
Noah and Chance are old friends who mostly respect each other's opinions. Even though Chance is a fool and a traitor. Find their show presented at ThePlaylist.Net and follow them on Twitter for the latest on Noah's literary agenting and Chance's work in the Portland arts scene.