'Home Alone' for the Holidays
Episode 180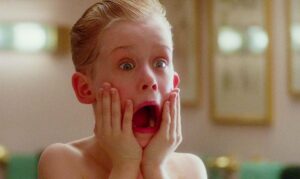 This Thanksgiving, we were home alone… watching "Home Alone"! Following our first-ever watch party, we reappraise the iconic holiday film turning 30. Through a 2020 viewing, we address whether Kevin is a sociopath, the acting quality by the sad adult characters, and just how much dairy Kevin puts away. 'Tis the season for losing one's reading glasses, highlighting toxic family dynamics and showing how incompetent the cops really are!
All Episodes
our favorite movies
all movies
Wait, What is This?
Movie Reviews & Reappraisals
Be Reel is a movie reviewing & reappraising podcast hosted by Chance Solem-Pfeifer and Noah Ballard.
Each time out, we select three movies based around a genre and call up guests ranging from submarine captains to Oscar winners. Then, we rate the movies, weighing both technical quality and entertainment.
Noah and Chance are old friends who mostly respect each other's opinions. Even though Chance is a fool and a traitor. Find their show presented at ThePlaylist.Net and follow them on Twitter for the latest on Noah's literary agenting and Chance's work in the Portland arts scene.