The 'Little Women' of 2019, 1994, and 1949
Episode 145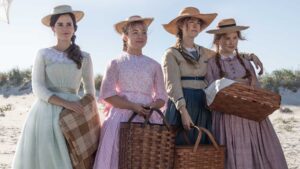 For the first Be Reel of 2020, Noah and Chance visit the March family in their seventh turn on the big screen. With a new structure and perhaps all-time best cast, Greta Gerwig's "Little Women" feels revisionist and affectionate toward the 1868 story all at once. Then, in search of more context, we review the "Little Women" of 1994 and 1949. From these films, we discuss the Jo March of Winona Ryder and the Amy of Elizabeth Taylor while observing these adaptations sort out their own era-driven versions of the classic American novel.
Be Reel is brought to you by California College of the Arts' Writing MFA program. Learn more at CCA.edu/writingmfa.
All Episodes
our favorite movies
all movies
Wait, What is This?
Movie Reviews & Reappraisals
Be Reel is a movie reviewing & reappraising podcast hosted by Chance Solem-Pfeifer and Noah Ballard.
Each time out, we select three movies based around a genre and call up guests ranging from submarine captains to Oscar winners. Then, we rate the movies, weighing both technical quality and entertainment.
Noah and Chance are old friends who mostly respect each other's opinions. Even though Chance is a fool and a traitor. Find their show presented at ThePlaylist.Net and follow them on Twitter for the latest on Noah's literary agenting and Chance's work in the Portland arts scene.