'The French Dispatch' Is Not Lesser Wes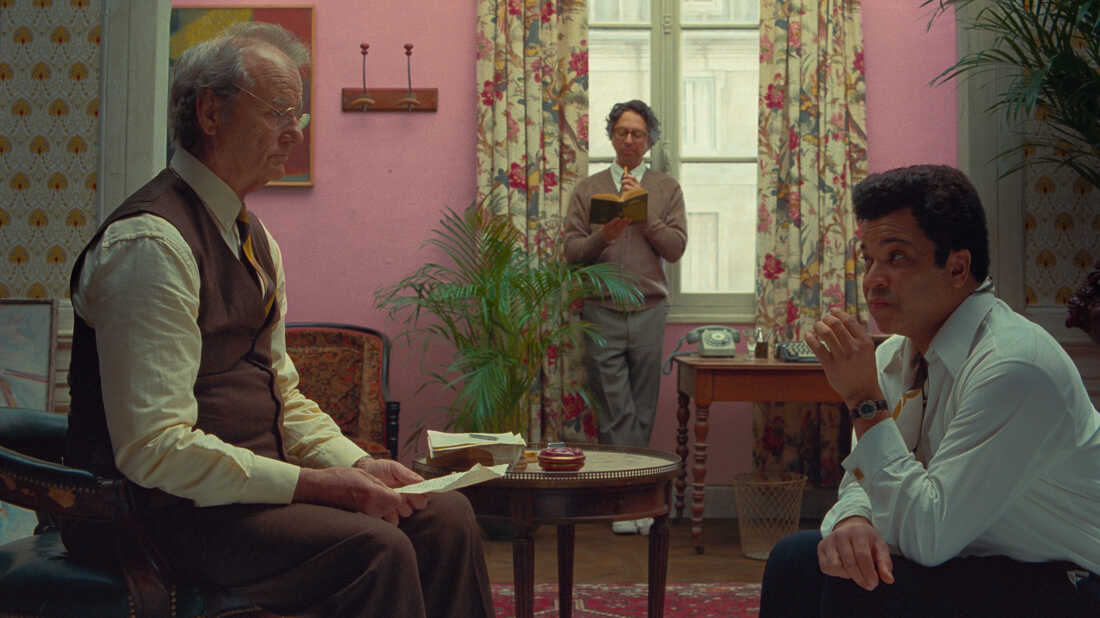 Wes Anderson's The French Dispatch, if history is any indicator, could be the film to pull indie cinemas out of their pandemic red. (I dearly hope so.) And yet Anderson has never fixated harder on his own muses than in his 10th film, a vignette-driven ode to European travel writing by way of '60s and '70s New Yorker worship. Will the obscurity hold audiences at an arm's length? It's tough to say. Some viewers tend to gauge Anderson's accessibility by the films' esoteric subject matter; some to gauge it by the emotional vulnerability or lack thereof; I tend to gauge it by how the two intermingle.
Your premise here is that Bill Murray is an ex-pat Midwestern newspaperman, Arthur Howitzer Jr., who launches a magazine offshoot of a Kansas paper to cover politics, art and street culture in the town of Ennui, France throughout the mid 20th century. The French Dispatch unfolds with recitations and yarns from a particularly packed issue, featuring stories from journalists played by Owen Wilson, Tilda Swinton, Frances McDormand and Jeffrey Wright. Their pieces cover everything from prison sculpting to local Ennui rat infestations to student revolutions, but the stories are, as a rule, exquisitely narrated by writers modeled after James Baldwin (Wright, more or less), Mavis Gallant (McDormand, more or less), and more (more or less).
To those who would say Anderson is parodying himself here—his style is as decorative and fastidious as ever; he has 40 actors you like at his disposal; berets and bicycles and precocious children of distant parents appear without irony; we've previously called his work dioramic to sound smart, and now some scenes are literal dioramas—his goals and execution extend so obviously and brilliantly beyond parody. Anderson somehow designs Ennui with greater intention and nuance than ever, inventing a world of temporal split screens, dead cityscapes, and snapshots of culture so obviously fictional it actually hurts to feel like you missed them. I'll say now that cinematographer Robert Yeoman deserves an Oscar or at least a vacation. And that's the secret to The French Dispatch joining the upper echelon of Wes films (for me, that's Tenenbaums, Budapest and Rushmore). When Anderson goes melancholy (not in terms of demeanor [see Life Aquatic and Darjeeling] but in terms of invention and the characters forced to live inside those fleeting inventions, it feels like all the doll-housing speaks to some deeper loneliness in the kind of person who would build such a world in the first place.  And here, the people who would write about them in flourishing prose.
All Episodes
our favorite movies
all movies
Wait, What is This?
Movie Reviews & Reappraisals
Be Reel is a movie reviewing & reappraising podcast hosted by Chance Solem-Pfeifer and Noah Ballard.
Each time out, we select three movies based around a genre and call up guests ranging from submarine captains to Oscar winners. Then, we rate the movies, weighing both technical quality and entertainment.
Noah and Chance are old friends who mostly respect each other's opinions. Even though Chance is a fool and a traitor. Find their show presented at ThePlaylist.Net and follow them on Twitter for the latest on Noah's literary agenting and Chance's work in the Portland arts scene.