'Cane River' Is A Long-Lost Black Romance, Deepened By Untold Histories (feat. Tiana Reid)
Episode 167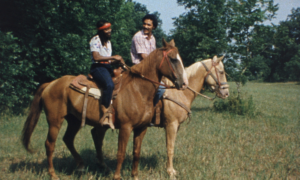 "Cane River" (1982), a recently unearthed debut from writer/director Horace Jenkins, is now, after a year of remastering, available for streaming. Part love story, part critique of colorism in Louisana, "Cane River" is a moving examination of how cinematic romances can't escape history. Critic and writer Tiana Reid guests this week (16:00) to unpack the concept of the "Black outdoors" and review some of Peter Metoyer's poetry.
Read Tiana's tremendous review of "Cane River" here:
* * *
To support the causes of justice and equality for our Black colleagues, friends, neighbors, and fellow citizens, please consider donating to:
–The AAR Diversity Internship Initiative
–Don't Shoot PDX
–The Family of James Scurlock
All Episodes
our favorite movies
all movies
Wait, What is This?
Movie Reviews & Reappraisals
Be Reel is a movie reviewing & reappraising podcast hosted by Chance Solem-Pfeifer and Noah Ballard.
Each time out, we select three movies based around a genre and call up guests ranging from submarine captains to Oscar winners. Then, we rate the movies, weighing both technical quality and entertainment.
Noah and Chance are old friends who mostly respect each other's opinions. Even though Chance is a fool and a traitor. Find their show presented at ThePlaylist.Net and follow them on Twitter for the latest on Noah's literary agenting and Chance's work in the Portland arts scene.