Charles Burnett Led A 'Rebellion'
Episode 175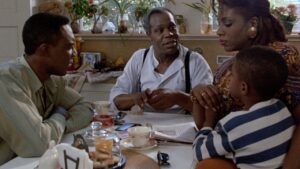 For the 30th anniversary of "To Sleep with Anger" (1990), we dive into the films of principal "L.A. Rebellion" director Charles Burnett. Part of the first generation of Black directors to come out of American film school, Burnett brought a daring cinematographer's eye and watchful activist's pen to films like "Killer of Sheep" (1978) and "The Glass Shield" (1994). Of course, one can't talk about Burnett without discussing how underappreciated he's been compared to white directors of his era with similar influences and indie bonafides. So let's appreciate, dammit.
In addition, Be Reel would like to continue directing you to causes that support Black artists and creators. This week, please consider a donation to the "Our Stories Our Lives" response fund from the Portland nonprofit Open Signal. It's turning donations into hundreds of stipends supporting Black filmmakers in the Northwest. Thank you for supporting their work.
secure.givelively.org/donate/open-si…-response-fund
All Episodes
our favorite movies
all movies
Wait, What is This?
Movie Reviews & Reappraisals
Be Reel is a movie reviewing & reappraising podcast hosted by Chance Solem-Pfeifer and Noah Ballard.
Each time out, we select three movies based around a genre and call up guests ranging from submarine captains to Oscar winners. Then, we rate the movies, weighing both technical quality and entertainment.
Noah and Chance are old friends who mostly respect each other's opinions. Even though Chance is a fool and a traitor. Find their show presented at ThePlaylist.Net and follow them on Twitter for the latest on Noah's literary agenting and Chance's work in the Portland arts scene.