Queen & Slim Are Ready For Their Poster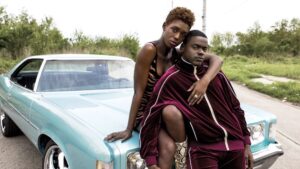 Police violence, or the threat of it, against unarmed black folks has been depicted in many films this decade: Fruitvale Station, Widows, Detroit (as a clear present-past resonance), The Hate U Give, Get Out and more. Of course, you could argue this wave of depiction is quite late. Police violence in its current form is legible in America since the Great Migration, which began a century ago as black southerners moved north and west to urban centers. (Also, Rodney King was 30 years ago.) What feels even later than the depiction of police violence is an actual retort. If the offending officers are allowed to murder with impunity, then a ferry of filmic Martins deserves its Malcolm.
Enter Queen & Slim, which finds two young, black Ohioans (played by Jodie Turner-Smith and Daniel Kaluuya, respectively) driving home from a tepid Tinder date when a white officer (Sturgill Simpson, what?) puts them through the uncannily standard rigamarole of terror. The would-be victims end up killing the officer in self-defense. Our two heroes, and it's a small miracle just to say that of a studio movie, have to run for it.
The scene just described is disturbingly patient, recognizable and a testament to the staging of first-time feature director Melina Matsoukas. She's best known for helming the iconic videos for Beyonce's "Formation" and "We Found Love." Now, Queen (Turner-Smith) and Slim (Kaluuya) have clearly seen this movie too and are beyond baffled that this racist trainwreck is still going to slam into them. Similarly, Matsoukas and Emmy-winning screenwriter Lena Waithe have clear ideas of how to squeeze meaning and catharsis from the film's many frozen-in-time moments. Queen and Slim's escape isn't really the highlight here; it's the moments they steal to themselves, from riding horses to shooting bourbon to tumbling into love. Nobody says as much on screen, but they need to live while they're still alive.
On the level of literal storytelling though, the stolen moments create a pileup of logic problems. Smooth movie mechanics seem to concern Matsoukas and Waithe very little. I don't necessarily blame them, but glitchy storytelling is likely going to land Queen & Slim in the realm of—how does the cowardly film critic speak go—"powerful" but not "great." The script is absent the cause-and-effect flow to make the characters' journey southward feel like a proper odyssey of dominoes. Their pursuers, abetters and admirers are all important to the film's message but incredibly vague on a script level. Plus, the survival instincts on display here are preposterously poor. (Upon another unnecessary detour, the woman next to me in the theater actually cried out, "AGAIN!?")
There's a little confusion on the level of characterization too. Queen is introduced to us as a frustrated defense attorney, but then her skills with rhetoric, communication, and law are never used. Slim is a straight-edge Christian who seems to hold neither of those convictions very dear. Maybe the disjunction here is with the movie's intentions of real-time folklore vs. realistic character traits. After a stop-off at the home of Queen's uncle (Bokeem Woodbine) in New Orleans, the protagonists transform almost instantly into iconography. And while they are recognized by Black allies and opponents throughout the journey, it doesn't meaningfully inflect how they view themselves in all this. In other words, they don't reckon with the infamy, righteousness, and hatred swirling around their names. One scene of inspired protesters clashing with police is liable to spark intense controversy if anyone actually sees this movie, and I still have no idea what to make of it. It's the most dramatic example of Queen & Slim feeling sure it wants to make a ground-breaking statement but not quite able to speak through a coherent, standalone piece of art.
It's entirely possible, though, you can set much of that aside in favor of brilliant acting and steamy chemistry. Kaluuya is already one of Hollywood's great pausers, and he mines sensuality and weirdness alike from absent replies. Turner-Smith plays Queen with a natural but hard-won elegance. Though sharp with dialogue, it's likely her modeling background that creates her keen sense of physical presentation as Queen transmutes into icon status. Though the Bonny and Clyde comparison is inaccurate in many ways, it stands up in one key respect: these two disappear easily into a unit. And to Waithe's credit, she's crafted myriad ways to deepen and normalize her characters with both dramatically confessed backstory and winning chat. (A debate over fat vs. skinny Luther Vandross is particularly charming.)
My final verdict rests uneasily between admiration for the film's vision and frustration over its execution. If Queen & Slim is intended as an art piece meant to imagine and immortalize new folk heroes, it does! But it certainly spends a lot of time grounding them in a genre flick before fleeing that approach. If it's meant as a compelling chase movie, it … nearly is. But there are enough plotholes to blow out four Pontiac tires. If it's meant to be politically incendiary, it very well might be! But it oddly shies away from unpacking its most incendiary parts in favor of an obligatory love connection. It's a hard-won portrayal of Black survival that puts—and this isn't fair—more on the line than 90 percent of films this year. Queen & Slim are ready for their close-up, just not their close read.
All Episodes
our favorite movies
all movies
Wait, What is This?
Movie Reviews & Reappraisals
Be Reel is a movie reviewing & reappraising podcast hosted by Chance Solem-Pfeifer and Noah Ballard.
Each time out, we select three movies based around a genre and call up guests ranging from submarine captains to Oscar winners. Then, we rate the movies, weighing both technical quality and entertainment.
Noah and Chance are old friends who mostly respect each other's opinions. Even though Chance is a fool and a traitor. Find their show presented at ThePlaylist.Net and follow them on Twitter for the latest on Noah's literary agenting and Chance's work in the Portland arts scene.