Be Reel's Favorite Films of 2018
Dear listeners,
As 2018 is nearly gone, we're here with our top 10 favorite films of the year. Consider this our year-end episode substitute: you might even find a squabble or two in the lists below.
Overall, it's been a good year for movies and our podcast alike. If you didn't hear the big news, Be Reel is now part of The Playlist Podcast Network. Moreover, Noah's connected us with some terrific sponsors in 2018, and we've had wonderful guests on the show this year like Paul Dano and Debra Granik. We also owe a massive thank you to Michael Todd for redesigning and streamlining the very website on which you find yourself. He's a prince and exactly the kind of caring, patient, and talented friend we've needed to turn this labor of love into a bigger labor of love over these nearly four years.
Our best to all of you this holiday season, and do send us your own top 10 lists via Be Reel's social media if you like. We're curious!
Noah's Top 10 Movies of the Year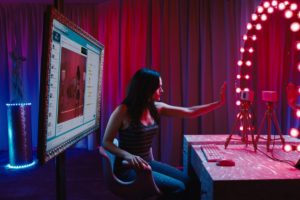 10. CAM
Shout out to this weird, wonderful Netflix/Blumhouse film that seemingly came out of nowhere, won a bunch of festivals and then was quickly endorsed by Stephen King as a terrific psychological thriller. "CAM" follows Alice (Maddie Brewer from "The Handmaid's Tale") on an internet thriller to return her stolen camgirl identity. I should mention that I work with Isa Mazzei, the screenwriter. But I'm unapologetic in saying that I find Mazzei to be an absolute visionary–taking sex work from taboo to something people do because they want to.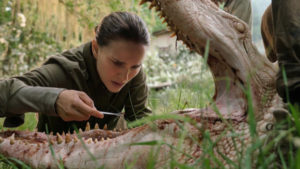 9. Annihilation
This Jeff VanderMeer adaptation kind of disappeared! There was apparently drama around the final cut: Director Alex Garland ("Ex Machina") wanted it to be more visual; the studio wanted more representative. Whatever? I thought it was great–a tight, character-driven film that didn't get bogged down with the science of this strange area being discovered in America's wetlands, but rather with terror of what they find/don't find inside. Natalie Portman leads an all star cast of dynamic female actors both new (Tessa Thompson) and established (Jennifer Jason Leigh). Also, sometimes I feel like Chance and I begin to resemble Natalie Portman in the climax (no spoilers!) when we've hung out in Lincoln, NE for too long a stretch.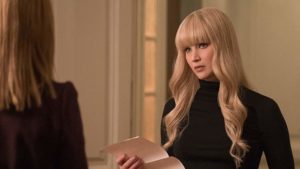 8. Red Sparrow
I know that Chance is going to lose his mind over this one, but this was my favorite thriller of the year. I thought Jennifer Lawrence showed a new side of herself as an actor: a woman unafraid of using her sexuality to get what she wants. It was also a nice career palette cleanser from the unwatchable "mother!" Based on the Jason Matthews bestseller, "Red Sparrow" follows the all-too-timely case of ballerina Dominika Egorova as she's recruited into a finishing school for sexy Russian spies. She is then caught between American CIA agent Nash (Joel Edgerton) and her creepy-but-connected uncle Vanya (Matthias Schoenaerts). I found the twist ending something out of the best Tom Clancy adaptations!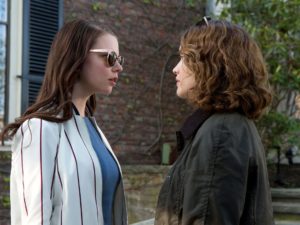 7. Thoroughbreds
What can I say? I'm a softie for two rich, entitled teens stuck somewhere in the tony Connecticut suburbs going down the rabbit hole to seek (somewhat petty) revenge on Paul Sparks. How can you not want to stab this old-Bryce-Harper-looking, rowing-machine junkie? He's a dick! But while I came for Sparks, I stayed for two breakout out performances by Olivia Cooke and Anya Taylor-Joy, two besties-turned-murderers, maybe. It's also one of the final performances by Anton Yelchin. RIP. "Thoroughbreds" is, as the title suggests, a suburban horse girl movie in the most delicious way possible.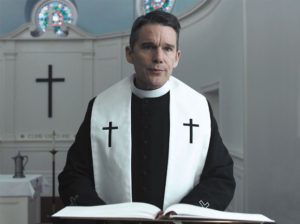 6. First Reformed
Chance had been raving about this movie since he saw it as a press screening or something, saying it was the best movie of the year. I bet if you go look at his list right now, you'll see it there, right there, at number one. He's not wrong that it's very good! "First Reformed" follows maybe-dying-of-cancer minister Toller (Ethan Hawke) looking over a small church in upstate New York that is more-or-less just a tourist attraction. After an intimate meeting with a beautiful congregant (Amanda Seyfried) and her doomsday-vegan husband (Philip Ettinger), Toller's world spins wildly out of control. Great cameo by Cedric the Entertainer as the minister of the fancy megachurch keeping Toller in business!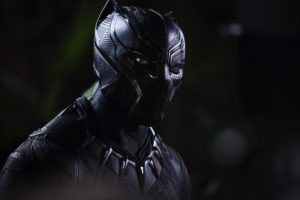 5. Black Panther
I really don't love comic book movies, but this one felt different. Ryan Coogler's vision of an alternate world where the people of Wakanda more-or-less control humanity and technology with ethics and morals rooted in an appreciation for tradition and wise elders was a welcome respite from the burning hellscape of our current political system–as well as the brutal world of the Marvel Universe just outside the frame. Michael B. Jordan steals the show as Killmonger, which is supposedly his surname, but come on, Skip! With a last name like that, what did you think he was going to be when he grew up? Huh, Erik? I also really liked Letitia Wright, the fast-talking Q character who's always coming up with a timely invention to save the day.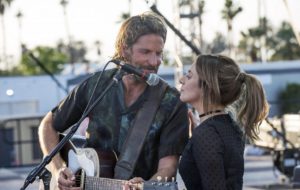 4. A Star is Born
You had me at the fucking trailer, guys. I must have watched that thing 50 times in the lead-up to seeing the film back in October. Amazing! These kinds of nonsense emotional rollercoasters simply aren't made any more, and we are lesser people because of that. Lady Gaga should have made movies years ago–she's an absolute star, and I can't wait to see what she does next to shed the typecasting of Ally, ingenue singer/songwriter who is meteorically rising under the tutelage/penis of one Jackson Maine, played, of course, by Bradley Cooper. Their whole relationship is weird and vibrant and warm and cold, and ultimately the stuff of Hollywood legend. The ending is brutal. I wept.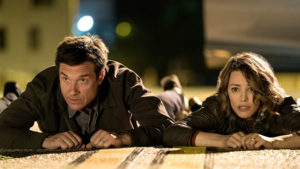 3. Game Night
What a rollicking good time this was! Jason Bateman, Rachel McAdams, Kyle Chandler, plus five other talented actors all get together to play some board games, because that's what bored, fortysomethings do. In an attempt to one-up their typical, stayed proceedings, douche brother Brooks (Chandler) hires a company to give the crew a night they'll never forget. But here's the thing: Brooks is not only a douche, but he's a douche being chased by some bad people. The action is taught and justified by a funny, sharp screenplay that allows the actors to have fun, get a little weird, and play beautifully on the expectations of an action movie with characters from the best Apatow films.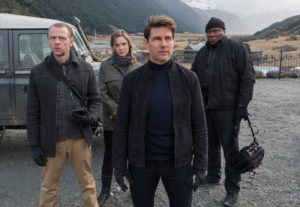 2. Mission: Impossible – Fallout
We've come to expect our action movies to never pause, never take a breath, never stop thrilling the audience. "Mission: Impossible – Fallout" cut the fat of unnecessary development and plotting that often bogged down the series (remember when Chance and I watched all six of them in a row?) while still allowing Ethan Hunt (a nearly 60-year-old Tom Cruise) to have grounded stakes as this franchise takes on another "if you don't complete this mission we're shutting you down" episode. Come for Henry Cavill's mustache and stay for two incredible chases: one with trucks and motorcycles, one with helicopters.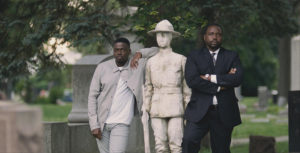 1. Widows
In a year where cinema was so focused on understanding how our systems disenfranchise women and people of color, "Widows" was the only film to actually tackle racism, gerrymandering, police corruption and women's rage while still making an intelligent, fully formed movie. As the title suggests, we are introduced to four women (Viola Davis, Elizabeth Debicki, Michelle Rodriguez and Carrie Coon) who have all lost their husbands to a heist gone bad. But money is still owed despite their deaths, which forces these women, who only profited but didn't participate, to get their hands dirty. What they find after peeling away the visage of Chicago's crime world is rot that extends all the way to the political machine. While 2018's midterm election took up most of the oxygen with real-life political chaos, Steve McQueen's excellent crime drama was like the victories of some progressives: it was specific and grassroots in its humanity toward four women choosing to empower themselves when men they trusted fucked them over. A devastating script by Gillian Flynn avoids cheesy voiceover, heist cliches, and embraces these flawed-yet-sympathetic women while being unafraid to interrogate the sentries of our white political system.
Chance's Top 10 Films of the Year

10. A Star Is Born
I have spent the entire year waiting for my new dog to look at me the way Lady Gaga looks at rehabbing Bradley Cooper while doing an impression of their forlorn pup Charlie (who is runner-up to Widows' Olivia for Best Doggo of the Year). It's those moments where vulnerability meets levity that save this oh-so-Hollywood retread from full-tilt melodrama. Plus, the dog impression exemplifies Gaga's totally improbable ability to seem real and grounded while playing against a man trying to be so real that he feels like a twisted ideal. And a try-hard though he may be, why were people waffling about the quality of Cooper's direction back in October? The concert footage is undeniably electric, massive yet intimate. He absolutely needs to make more movies. Finally, I'm a sucker for a middlebrow blockbuster 90 percent of people can get behind. To that 10 percent who aren't, ain't it hard keeping it so hardcore?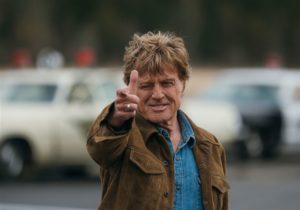 9. The Old Man and the Gun
Saw this one twice in the theater. The first time I thought it was nice. The second time, I … wept? I think writer/director David Lowery (Ain't Them Bodies Saints, A Ghost Story) offers a far deeper read in this send-off to Robert Redford's career than just, "Oh doesn't he play a charming bank robber, even at 80?" From the Sundance Kid to Johnny Hooker to Waldo Pepper, none of the borderline scoundrels of Redford's vaunted career minted their legend through relationships or happiness, and that's a melancholy point not to be overlooked. It's not in The Old Man and the Gun. In perhaps my favorite sequence of the year, Lowery sets Redford's final getaway from the fuzz to Jackson C. Frank's "The Blues Run the Game." Disappointing those who might love him is the underbelly of the on-screen Redford legend.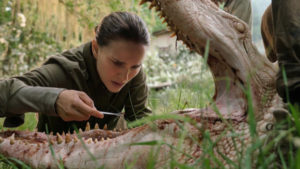 8. Annihilation
We reviewed this Alex Garland-directed sci-fi film in our second trip 'round "Our Research Is Not What It Seems." A silly hallmark of this sci-fi/mystery subgenre is breathlessly explaining the impossible at the film's climax. (See: the ship went through a portal to hell in Event Horizon.) The brilliance of Annihilation — in addition to the perfectly uncanny visual effects, unbelievable sound design, and wonderful performances from Gina Rodriguez and Tessa Thompson — is that it understands continuing to ask questions is a more interesting way to drive, and ultimately transcend, plot than a mad scramble for answers. Our scientists don't know what The Shimmer wants, "or if it wants." That's an evolutionary stage of ambiguity few sci-fi movies reach.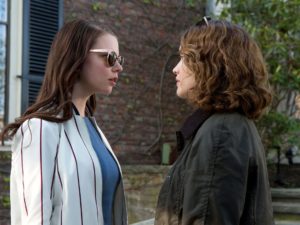 7. Thoroughbreds
I cannot believe Noah and I both have this on our lists! I loved this weird little bloodless and sexless, yet psychologically gory caper that dropped in the late winter and promptly disappeared from view. Playwright Cory Finley's script is just the right mix of numb and verbose, and Anthon Yelchin plays a brilliant fall guy in his final role.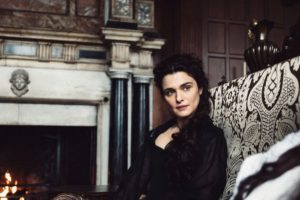 6. The Favourite
I'm a big fan of Yorgos Lanthimos' last two films — The Lobster and The Killing of a Sacred Deer — though I'm well aware my old pod partner is NOT. He's peeved about The Favourite too and claims no one has yet explained why it's good. Since we're not pod-ing about it as of now, I'll try and do that in 100 words, and I'm sure he'll accept my explanation.
Lanthimos is unique in his ability to unpack dystopias that the characters therein don't realize are dystopic. Via the monarchal politics of The Favourite, he's stepped out of the Kafka horror mode of his previous work and into a veritable dystopia that more or less existed (and still does, if you fear limitless executive power). The Favourite is simultaneously one of the most subversive and thematically honest films I've seen about what it must have been like to live under Divine Right Theory. We enter Queen Anne's (Olivia Coleman) early 18th-century court via striving ingenue (Emma Stone) attempting to disrupt the status quo that exists between Anne and her lifelong friend/caretaker/advisor Sarah, Dutchess of Malborough (Rachel Weisz). It's a setup meant to make us root for Stone by default (also she's the ever-winning Emma Stone, so great, tricky casting there), be dubious of Weisz's all-too-comfortable and manipulative position, and psycho-analyze the Queen's pain to look for remedies. Via a telling fish-eye lens that's often positioned in the palace halls like a surveillance camera, Lanthimos feeds us a creeping realization along with the incisive royal intrigue: we're watching a massive misapprehension of the story we're used to, or perhaps believe we're watching. Just like in another terrific 2018 black comedy, The Death of Stalin, there is no such thing as political pole position when madness hides in plain sight. What if the reformer turns out to be merely an arsonist and the autocrat realizes the systems we've come to trust in restraining her are but a buffer to more power and pleasure? The Favourite's wicked-seeming ending is not a twist; it's a destiny. 
Nobody said it was pleasant, Noah, but sign me up over and over for a triangle of banter, sex, and power that inverts, inverts again, and then reveals it was just a black hole with some window dressing. Cruel? Oh yeah. Pointless? Not on your life.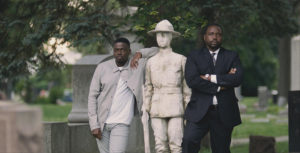 5. Widows
I'm exhausted from The Favourite blurb, and Noah is my go-to guy for Widows praise anyway. This movie has, what, 10 great performances and director Steve McQueen making his first legitimately gripping movie, though hardly his first great one. What is not to like? It's going to be a damn shame when Widows doesn't fill the entire Supporting Actor and Actress categories at the Oscars.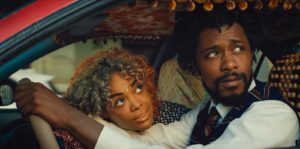 4. Sorry To Bother You
Here's what I said about Boots Riley's terrific debut for Willamette Week this month when I called it the best encapsulation of 2018 in a film:
"Plenty of films attempted relevance this year (The Hate U Give, Blindspotting, Eighth Grade), but no entry pinpointed the anxious, unfocused, exaggerated, unescapable blitz of a satire violently collapsing in on itself like Sorry To Bother You."
It's not the deepest satire I've ever seen, but 2018 doesn't feel like a deep time to me so much as one of forceful obviousness and forced obliviousness.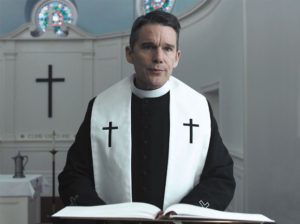 3. First Reformed
Folks, I'm realizing as I write this that several of my favorite 2018 films are about how people are catalyzed toward rage, death, or slavery by attempting to bargain with forces that don't bargain. It's true of The Favourite. It's true of Sorry To Bother You. It's true of Paul Schrader's incredible return to quality, First Reformed.
How do I get out of this pattern? How about by writing about Ethan Hawke? This movie made me realize I love him and have loved him for some time. As a slowly decaying preacher attempting to counsel a despondent environmentalist, Hawke is the perfect avatar for the man who's spent every ounce of his youth trying to do the right thing, or figure out what "the right thing" means. Now, he's exhausted, and his waning idealism hangs from his face like a desperate mask.
Also, I'd talk to you for an hour about how this movie compares to Taxi Driver. I wrote this for Eleven PDX about that idea:
"If [Travis] Bickle was the simmering worst of the quiet American and Reverend Toller is the suffering ideal, then the true horror is that in this light, who can tell the difference?"

2. 
Burning
I'm very aware I'm putting a foreign film and a documentary as my two favorite movies of the year. I sorta feel the need to apologize? Was 2018 the year I crossed over into trying to do film criticism for a living, and did that in itself put me out of touch? Oh, heavens. But no — I feel extremely passionate about these top two films, and the reasons I love them are emotional, guttural, personal, not because the directors aced film school. I'm still one of you, even if I watched 255 movies this year!
In Burning, South Korean luminary Lee Chang-Dong gives us one of the great contemporary stories about not fucking trusting people who say they're writers. (Oh hey, it's me again.) The story follows a young Korean man striking up a sudden relationship with a girl from his childhood while trying to manage the rural property of his jailed father and complete his first book. That affecting premise for our Nick Carraway archetype is quickly complicated by the arrival of our inevitable Gatsby, played by a slippery and gorgeous Steven Yeun. The Walking Dead and Sorry to Bother You star has won a lot of Critics awards for this simmering mystery, and rightfully so. Burning is the only movie this year to which I added an additional hour just by stewing on my couch after its ending. It made me think about genre, acting, the audience, and my own neighbors differently. No stories are as worthy of interrogation as the ones we tell ourselves.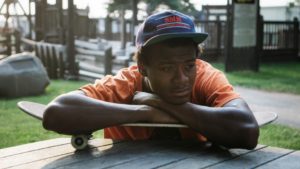 1. Minding The Gap
It was a big year for documentaries like RBG and Won't You Be My Neighbor? tapping into a national thirst for resistance and kindness, respectively. Minding The Gap, though, is a completely un-prescriptive look at America and all the more impactful for it. Streaming free on Hulu, this is Bing Liu's film diary about his group of skateboarding pals coming of age in the dried-up industrial town of Rockford, Illinois. 
I'll explain my overwhelming affection and admiration for Minding The Gap this way: When I observe a well-drawn fictional character, I get this incorrect but ironclad feeling I know everything about them. And then it's often the bittersweet opposite when I watch a documentary. Despite a mountain of detail, I wonder the whole time what the filmmaker isn't telling me.
The three diverse young men of Minding The Gap feel infinitely more real than most documentary subjects because they're ignorant not of the fact that their friend is making a movie but how they're changing as the footage accumulates. It's the kind of thing you only see happen to fictional characters. In the macro, we see the Rockford skateboarders submit to and/or reject the cycles of poverty and violence that made them rebellious kids in the first place. In the micro, we have a perfectly preserved specimen of something both omnipresent and elusive: adulthood.
All Episodes
our favorite movies
all movies
Wait, What is This?
Movie Reviews & Reappraisals
Be Reel is a movie reviewing & reappraising podcast hosted by Chance Solem-Pfeifer and Noah Ballard.
Each time out, we select three movies based around a genre and call up guests ranging from submarine captains to Oscar winners. Then, we rate the movies, weighing both technical quality and entertainment.
Noah and Chance are old friends who mostly respect each other's opinions. Even though Chance is a fool and a traitor. Find their show presented at ThePlaylist.Net and follow them on Twitter for the latest on Noah's literary agenting and Chance's work in the Portland arts scene.