Don't Hurt Yourself: 'Us' Challenges, Rewards What You Want From a 'Get Out' Follow-Up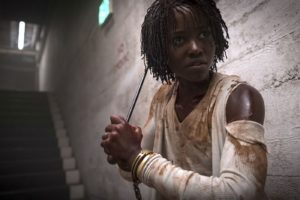 Two years in the rear view and seemingly not one day undiscussed, Get Out was driven by a paradox — a paradox that fueled its status as a box office, film essay, theatrical experience, awards season, memeified phenomenon. Jordan Peele's 2017 directorial debut was packed with meaning and symbolism that was also really only interpretable one way. That, of course, is that the violence enacted upon the young black man (Daniel Kaluuya) visiting his white girlfriend's parents for the first time was a timely and well-orchestrated commentary on the poison seed of racism infecting white neo-liberals, cruel capitalists, and oddly admiring bigots, alike. In short, while no one could accuse Get Out of being obvious or shallow, there's also no way to miss the point of the movie.
As perfectly as it worked out, let that paradox die. Us goes deeper, gets weirder, and that's a good thing. Nobody wants the Oliver Stone of horror auteurs, and the genre remains possibly the richest text for imprinting funhouse versions of our society's scars and sinkholes onto stories we can interpret a dozen different ways. (The "aboutness" of Halloween or Texas Chainsaw Massacre is among the most compelling reasons to revisit the classics over and over.) Let them breathe, let them confuse, let the monsters be monsters, too. Us makes good on both sides of the equation: it's an escalation in scope and scares and underlies that with a mysterious allegory that's completely worthy of debate and liable to inspire 10 completely different of those "Us Explained" YouTube videos. What's more, any political read is also utterly ignorable if you so choose, another possibility missing from Get Out.
All I really want to say about the plot of Us is that it hinges on a family beach trip. And from the jump, Peele shines in making the drive-up-to-the-creepy-house preamble watchable and fun. Winston Duke's dad-joke arsenal is so stocked, in fact, you might even forget Peele is knowingly rehashing the oldest of horror tropes with this runway. As Papa Wilson, Duke is a terrific overtalker, experience-managing as a dad who thinks his approval rating hinges on the outcome of a weekend trip to Santa Cruz. But he's also the prompt to look much closer at Adelaide Wilson (Lupita Nyong'o) by contrast, who seems on edge about an otherwise innocuous weekend. It's not long before the Wilsons and their two children encounter a quartet of doppelgangers — malnourished, nearly mute, scarlet-coverall-wearing versions of themselves.
Playing the spiritual leader of the alt family is where Nyong'o (somehow just now in her first truly starring role) transcends the role of overqualified scream queen or mama bear. Not only does she suck the oxygen out of scenes with her stick-straight posture and unbelievable vocal choices, but Us becomes an intense acting exercise for Nyong'o, drawing the layers and refractions out of an uneasy mother. As the plot unfolds, the Wilsons do a lot more than just run from themselves too. The buy-in required from an Oscar winner in Nyong'o and a beloved newcomer in Duke (not to mention the child actors) is paramount in a movie that marvelously mixes brutality with comedy and entertainment with allegory.
Working with quadruple the budget, Peele is simply biting off more than in his first film. For one, there's a distinct moment in Us where it takes on the bizarrely stilted tone of a fairytale. "Once upon a time," begins a sudden speech I won't spoil. Twenty minutes later, the fairy-tale symmetry is bowled over by a frenetic and disturbing comedy set piece that feels more akin to Alfred Molina's interlude in Boogie Nights than anything from a Wes Craven film. That's Peele's sketch comedy background coming to bear, one imagines. He can wall an audience into a scene that feels completely its own and then tiptoe back out to the larger whole. What's more, the film builds to a definitive and epic set piece that demonstrates bolder craft than even something as memorable as the moonlight lap-running in Get Out. I don't know how you make one of the best movies of the decade and then become demonstrably better as a director in the space of two years, but Peele has.
As for whether Us touches or surpasses Get Out, it's dumb to say this early. A second viewing is required for me, at least. To put it in the terms of our rating system, the sophomore film doesn't feed you quite the same pleasure, but sustained, visually eloquent sequences that might test audience patience are all rewarded through the same kind of meaningful object work Peele has made a hallmark of his storyboards. It's a hair more impressionistic than Get Out, certainly scarier for its own purposes. But what is all this waffling about? It's the best movie I've seen in this young year. Get a ticket and take yourself.
All Episodes
our favorite movies
all movies
Wait, What is This?
Movie Reviews & Reappraisals
Be Reel is a movie reviewing & reappraising podcast hosted by Chance Solem-Pfeifer and Noah Ballard.
Each time out, we select three movies based around a genre and call up guests ranging from submarine captains to Oscar winners. Then, we rate the movies, weighing both technical quality and entertainment.
Noah and Chance are old friends who mostly respect each other's opinions. Even though Chance is a fool and a traitor. Find their show presented at ThePlaylist.Net and follow them on Twitter for the latest on Noah's literary agenting and Chance's work in the Portland arts scene.