'Uncut Gems' Is One of the Best Gambling Movies Ever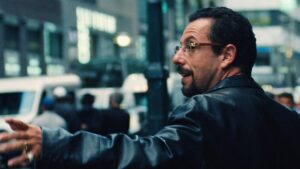 Much like the Safdie Brothers, the compulsive gambler has a fascinating relationship with control. For him, it's easier to drive the car going 100 than 25. It's easier to exist in the jet stream of a long shot bet than with two feet on the ground. Sure, there's the potential payoff, but to Howard Ratner (Adam Sandler) and the brothers who created him, "the action is the juice," as a psychopathic Tom Sizemore character once said in Heat.
In Uncut Gems, the Benny and Josh Safdie double down on the brilliance of their prior outing, Good Time, in another crime movie about flying off the fucking handle, this time with a little more cosmic philosophy. The brothers seem determined to make this generation's Bad Lieutenant with more humor, tempo, and without the sense of bloody red tragedy. They could stop right now or try 20 more times as far as I'm concerned because Uncut Gems succeeds on myriad levels: it is the logical conclusion of all the serious and unstable Sandler roles; it is quite possibly the best use of an athlete playing himself in a movie ever; it's one of the year's best movies.
Sandler stars as NYC Diamond District shop owner and leering fuck-up Howard Ratner, whom we encounter mid-fuck-up on the day he receives an Ethiopian opal he values at over a million dollars. Regardless of its numeric value, it's a special opal. Think of the prosperity stone in Parasite, bound to curse as well as bless. This next sentence I am privileged to type. Kevin effin' Garnett becomes obsessed with this opal, believing it feeds his competitive powers in the first-round 2012 playoff matchup against the Sixers. (This is the best film ever made.) Garnett demands to temporarily hold the stone while Ratner holds onto his 2008 championship ring as collateral, which he immediately pawns to create cash flow in the five angles of his mounting debt.
If Paul Thomas Anderson was the first filmmaker to recognize that Sandler's wild comedic swings between shyness and rage could be dialed toward the dramatic, the Safdies make a similar maneuver with his fading star power post-Funny People. The allure of Sandler's persona explains everything about how a loser of Howard's depth hasn't lost everything already: why his wife (Idina Menzel) has stayed with him, why his smoke show girlfriend (newcomer Julia Fox) is interested, why his eldest son reveres him, why a man-about-town and diamond hustler LaKeith Stanfield would work with him, why the thugs loitering outside his shop will inevitably give him two more days on the money he owes. Characters look in his eyes and see a three-legged puppy somehow offering them the world. Sandler has never created specific or nuanced characters on his own, but he brings immovable pathos. The other characters will never stop it with their own persuasive words or articulated feelings. What does "by Monday" mean to a weather vane? What does the timeliness of tucking in a kid mean to a man who sees his future in the mystical glint of gemstone?
Once again, the Safdies have created an incredible pace, utilizing a dozen different styles of music—Oneohtrix Point Never from choral to hip-hop to classic rock to Andean flute—to push along a movie that reaches a perverse flow state from its pacing, a flawless marriage of style and character, never may the two be separated.
All Episodes
our favorite movies
all movies
Wait, What is This?
Movie Reviews & Reappraisals
Be Reel is a movie reviewing & reappraising podcast hosted by Chance Solem-Pfeifer and Noah Ballard.
Each time out, we select three movies based around a genre and call up guests ranging from submarine captains to Oscar winners. Then, we rate the movies, weighing both technical quality and entertainment.
Noah and Chance are old friends who mostly respect each other's opinions. Even though Chance is a fool and a traitor. Find their show presented at ThePlaylist.Net and follow them on Twitter for the latest on Noah's literary agenting and Chance's work in the Portland arts scene.