Five Exceedingly Reel Years! (A Montage)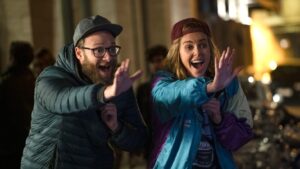 In March 2015, we started a movie podcast that was a little raw, a little tipsy, a little too much "White House Down." We've kept the pod going these five years and over 500 movie reviews for our friendship, for our relationship to friends and colleagues who listen and for all the tremendous (and even bad-good) films we never would've watched otherwise. We thank you kindly for spending some time with us. If you haven't rated the podcast or told your friend who digs movies about us, well, that's the best gift you can give five years in. All our old episodes live at BeReelPodcast.com and thank you again. Be reel.
Special thanks to:
The Playlist for hosting us since 2018 and Erik McClanahan for helping us make the connection;
California College of the Arts' Writing MFA Program for their faithful sponsorship;
Michael Todd for his old friendship, precious time, and this very website;
Our partners, Sarah and Lucy, for watching so many movies with us and also clearing out for their own sanity;
The dozens of intelligent and generous guests who've donated their time to the show since 2015;
And you dear listener! Stay healthy and be well.
All Episodes
our favorite movies
all movies
Wait, What is This?
Movie Reviews & Reappraisals
Be Reel is a movie reviewing & reappraising podcast hosted by Chance Solem-Pfeifer and Noah Ballard.
Each time out, we select three movies based around a genre and call up guests ranging from submarine captains to Oscar winners. Then, we rate the movies, weighing both technical quality and entertainment.
Noah and Chance are old friends who mostly respect each other's opinions. Even though Chance is a fool and a traitor. Find their show presented at ThePlaylist.Net and follow them on Twitter for the latest on Noah's literary agenting and Chance's work in the Portland arts scene.