Nazi Satires
Episode 139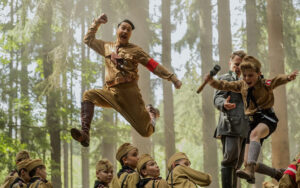 Charlie Chaplin lampooning Hitler's bombast and fragility in "The Great Dictator" (1940) marked one of comedy's all-time "truth to power" moments. But 80 years after WWII, how best to laugh at fascists when they seldom don the brownshirt? With the release of Taika Waititi's "Jojo Rabbit"—a would-be charming comedy about a Hitler youth whose imaginary friend is der Führer—we're again asking ourselves why, how, and when skewered Nazis are funny. After reviewing "Jojo," Chance and Noah duck back to "The Producers" (1967) and "Top Secret!" (1984) to examine how Nazis became a source of irony and camp in pop culture. As always—down with Hitler; all the way down.
Be Reel is brought to you by California College of the Arts' Writing MFA program. Learn more at cca.edu/writingmfa.
All Episodes
our favorite movies
all movies
Wait, What is This?
Movie Reviews & Reappraisals
Be Reel is a movie reviewing & reappraising podcast hosted by Chance Solem-Pfeifer and Noah Ballard.
Each time out, we select three movies based around a genre and call up guests ranging from submarine captains to Oscar winners. Then, we rate the movies, weighing both technical quality and entertainment.
Noah and Chance are old friends who mostly respect each other's opinions. Even though Chance is a fool and a traitor. Find their show presented at ThePlaylist.Net and follow them on Twitter for the latest on Noah's literary agenting and Chance's work in the Portland arts scene.