'Birds of Prey' Wants A Taste Of Real Freedom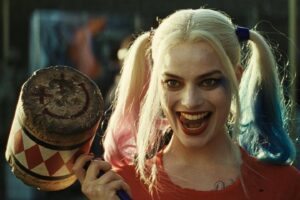 It's not freighted with anywhere near the same ill-gotten pathos, but Birds of Prey is just as convincing an example as Joker as to why you shouldn't position villains as heroes just for the studio productivity of it. Not because Harley Quinn and Margot Robbie don't deserve their shot! There's no reason the fictional character couldn't be a perverse delight, and Robbie has admirably marshaled creative and financial energy toward women-led films (including this one) with her production company LuckyChap Entertainment. Also, truly, bless their hearts for crawling out of the factory fire of Suicide Squad and still possessing some genuinely fresh spin-off energy. But how that energy turns from potential to kinetic in this new DC blockbuster is the issue.
In fact, Birds of Prey seems reluctant to convert its potential energy at all. Having an absolutely prime movie star ready to vamp with green pigtails, glitter cannons, and a Moonstruck-level Brooklyn accent is more thrilling than actually executing a tertiary comic book story. This could be why the movie has trouble simply starting. Its first few acts are a mess of record-scratch "let me show you how we got here" flashbacks that finally connect with 75 percent of the film gone. Somewhere in the time-scrambling montage of learning why half of Gotham wants to kill the newly single Harley Quinn, you may realize Birds of Prey basically just wants to do sketch comedy. Look out: in this sketch, Harley's broken heart lands her on a junk food kick. Uh oh, here's some brute Harley and the Joker forcibly tattooed come back to fight her. Oh nice: here's the bit where she "rescues" her pet hyena from a black market pound.
Robbie cuts a striking, if two-dimensional character in Harley. Her grin is a piece of facial acting totally specific to her countenance, and it works as a plastered exaggeration of her real-life charm in the same vein as Jack Nicholson's 1989 Joker. And we shouldn't take her fighting physicality for granted either. In a movie with a lot of boringly average combat, Harley fights with pep more than logic. And the superficial sizzle is fortunate because Birds of Prey leaves no deeper level for the Oscar-nominated actress to explore. That wouldn't be a problem if the script didn't prompt you to look there. Director Cathy Yan's movie posits that Harley needs to find her own identity post-break-up with the Joker, but let's be real. What could that possibly mean? She's a warped pixie whose reason for being is … doing bad stuff. And the suggestion that genuine feminism is the antidote to her outrageous malaise has far more to do with political readings on Harley Quinn's subservient role in comics than it does this story. In sum — you shouldn't walk out of this movie knowing it told you Harley Quinn needed to become her own woman when it had no intention of giving her the tools to do so.
What's more, Birds of Prey is never worse than when trying to balance the earnest and gendered tones of professional inferiority, family trauma, and sisterhood with its Deadpool-lite, tongue-out slapstick. And not just holistically; there are actual filmic moments where the tone is in flagrant dispute. Daniel Pemberton's score—minor key and full of monk chanting—will seem to galvanize the bonds of Det. Montoya (Rosie Perez), a mysterious crossbow vigilante (Mary Elizabeth Winstead) and a fighting lounge singer (Jurnee Smollett-Bell), but then Harley's irreverent dialogue ricochets off a belabored moment of drama. Or worse, it lies lifeless on top of it.
This dissonance simply repeats as Birds of Prety tries to make good on some perceived political mandate, but through a central figure whose essence is not giving a fuck. Perhaps if we experienced Harley through the POV of the young pickpocket Cassandra Cain (Ella Jay Basco) who becomes the lady clown's charge? The movie needs to do something to frame Harley as alluring or appealing to other people. Instead, we suffer through an inorganic marriage of nihilism and girl power, and a storytelling perspective with the steadiness of a cat chasing a laser pointer.
It's unfortunate, but this movie suffers the same counter-intuitive fate as Solo: A Star Wars Story. By all rights, it should feel immense freedom to be itself, yet it seems to internalize that freedom as pressure to justify its existence. It's not enough to mine comedy from the simple premise of a supervillain looking after a teenager. There's the incoherent plot about a mob family's priceless MacGuffin, I mean diamond. Harley talks constantly about Mr. J as if to remind the audience of some more persuasive master. And, I'm sorry, what actually are the Birds of Prey, other than a tease for a sequel that may or may not come?
It's now been, checks watch, nearly 8 years since I've genuinely enjoyed a DC movie. And Christopher Nolan made that one. I bring this up not because I salivate over Nolan but because he knows how to make movies. That's always been his priority. Birds of Prey is yet another comic book movie that doesn't seem to care about its movie-hood. It's concerned with its existence, sure! But so is every release worried more about what it owes to intellectual property than what it could do with two hours of screentime. This clown just gives too many fucks.
All Episodes
our favorite movies
all movies
Wait, What is This?
Movie Reviews & Reappraisals
Be Reel is a movie reviewing & reappraising podcast hosted by Chance Solem-Pfeifer and Noah Ballard.
Each time out, we select three movies based around a genre and call up guests ranging from submarine captains to Oscar winners. Then, we rate the movies, weighing both technical quality and entertainment.
Noah and Chance are old friends who mostly respect each other's opinions. Even though Chance is a fool and a traitor. Find their show presented at ThePlaylist.Net and follow them on Twitter for the latest on Noah's literary agenting and Chance's work in the Portland arts scene.