The Defining Roles of Kirk Douglas (1916-2020)
Episode 149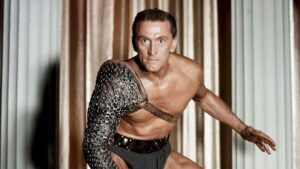 We lost a great one this month with the passing of Hollywood icon Kirk Douglas at the age of 103. But what made him such an era-defining star in classics like "Spartacus"? That indomitable chin? That triangle torso? No, there's something deeper and cannier to how the heartthrob-turned-super-producer cemented his own role as a prophet in the mid-century American movie religion. This week, Be Reel looks back at five movies that defined Douglas' career: "Ace in the Hole" (1951), "The Bad and the Beautiful" (1952), "20,000 Leagues Under the Sea" (1954), "Paths of Glory" (1957) and "Spartacus" (1960).
BE REEL is brought to you by California College of the Arts' Writing MFA program. Start your journey with them at cca.edu/writingmfa.
All Episodes
our favorite movies
all movies
Wait, What is This?
Movie Reviews & Reappraisals
Be Reel is a movie reviewing & reappraising podcast hosted by Chance Solem-Pfeifer and Noah Ballard.
Each time out, we select three movies based around a genre and call up guests ranging from submarine captains to Oscar winners. Then, we rate the movies, weighing both technical quality and entertainment.
Noah and Chance are old friends who mostly respect each other's opinions. Even though Chance is a fool and a traitor. Find their show presented at ThePlaylist.Net and follow them on Twitter for the latest on Noah's literary agenting and Chance's work in the Portland arts scene.