Beat 'Em At Their Own Game Show
Episode 136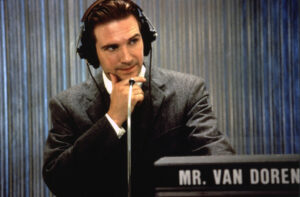 Nobody tells you about the bonus round after the million-dollar question—the one where we ask, "Why have we obsessed for 70 years over the TV game show in all its inherent fakeness, exploitation, and only a lottery ticket's chance of actually paying the common person their money?" This week, BE REEL is buzzing in, to reappraise "Quiz Show" on its 25th anniversary, "Slumdog Millionaire" one decade after it took home the Oscars' highest honor, and "The Running Man" because it's a very silly movie that clearly set the stage for "American Gladiators." Press play; you might win something!
Be Reel is brought to you by California College of the Arts' Writing MFA program. Learn more at cca.edu/writingmfa.
All Episodes
our favorite movies
all movies
Wait, What is This?
Movie Reviews & Reappraisals
Be Reel is a movie reviewing & reappraising podcast hosted by Chance Solem-Pfeifer and Noah Ballard.
Each time out, we select three movies based around a genre and call up guests ranging from submarine captains to Oscar winners. Then, we rate the movies, weighing both technical quality and entertainment.
Noah and Chance are old friends who mostly respect each other's opinions. Even though Chance is a fool and a traitor. Find their show presented at ThePlaylist.Net and follow them on Twitter for the latest on Noah's literary agenting and Chance's work in the Portland arts scene.