'The Hunt' Is The Most Controversial C+ Movie You Will Still Probably Never See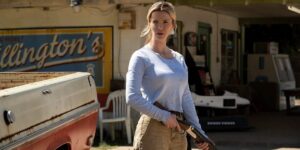 The irony now surrounding The Hunt is something the movie itself could never fathom. Originally slated for release last September, it was famously (if you think film blogs create fame) postponed in the wake of mass shootings in El Paso, Texas and Dayton, Ohio. Trying to turn sour lemons into sour lemonade, the Blumhouse update of The Most Dangerous Game is now touting its postponement as a marketing tool. Peep the poster, won't you? Sept. 19 is crossed out and March 13 is stepping in. 
Well, it turns out you don't want March 13 stepping in. Now a film trying to capitalize on its buzzy delay is going to likely land in theaters turned deserted by COVID-19. What then? Maybe a midstream rebrand? Hunt Die Repeat? But I digress. A film that's bloodily obsessed with the pseudo-realities of our politically polarized time is succumbing to a truth that trumps all others—we have no control. 
It's hard to know where the spoiler line is for a movie like The Hunt, but the outline of the plot is this: a gaggle of vaguely blue color White people wake up in a field and are hunted for sport by ultra-wealthy liberal douchebags. Or maybe they're more than douchebags; they're hunting humans after all. It's essentially a literalization of the AR-15 rattling you see on Twitter every day. Let's take this shit offline and see who really kills better, the 1% libtards have decided. Of course, on this premise alone, one can't help but feel we've crossed some rubicon of horror movies in the post-Get Out era. There's no Trojan Horse of political messaging here, just Twitter with more ruptured jugulars. Film critic Adam Nayman made a great joke on The Big Picture the other day about waiting for the day an overly symbolic horror movie arrives that's a metaphor for zombies. The Hunt makes me yearn for that day. Michael Myers, take me now. Here we have a movie thinking so hard how the internet poisons our minds, it forgets to be a movie. 
Now there is a certain zeal to The Hunt that's undeniable. Craig Zobel (Z For Zachariah, Compliance) appears not to give a fuck in a way he'd really like you to notice. Arrow through the neck, grenade down the pants, who's the snowflake now, Trumper!? And Lost and The Leftovers creator Damon Lindelof has found yet another puzzle box over which he can obsess. Most importantly, GLOW's Betty Gilpin is admirably weird as the member of the hunted we follow throughout. As always, major points to Gilpin for looking like Daryl Hannah but having Gilda Radner's sense of humor. As the other members of her forced cohort (Ike Barinholtz, Ethan Suplee, Wayne Duvall) pause to consider why their right-wing politics have led to this hunt, Gilpin moves through the hyperviolent action with a comedic numbness and sometimes seems to break character into a teething, giggling rodent overbite for no good reason. 
Now mostly because of Lindelof, The Hunt has a certain cleverness that verges on self-parody. The characters trade barbs with all the discourse superficiality of our rotten moment: PizzaGate, an Alex Jones knockoff, crisis actors, frantically PC work culture. But a very curious omission is the presence of any people of color — perhaps the movie's most interesting bit of rationalization and also the point at which it totally breaks down. In its fear of including characters whose backgrounds might prompt real political stakes, The Hunt wages a confused funhouse version of both-sides-ism that exposes the limits of its bravery: plenty of gore, no real guts. No real willingness to reckon with the undeniable racism of the MAGA crowd. If one of the hunted people was a Cuban immigrant voting Republication or one of the hunters a Black record label executive taking his perceived revenge, we might be cooking with something truly incendiary. Instead, we have a half-satire about how white people have lost their minds and will yell into the digital void until the day they maybe do decide to just kill each other. It's probably all too fitting that Glenn Howerton (It's Always Sunny In Philadelphia) appears as one of the liberal elite, given his stardom on a 15-year sitcom essentially skewering the cracked, exaggerated way isolated white losers view the world. But I'm not convinced this movie has quite that level of awareness, either. It's as faux-controversial as your 4Chan-driven #WhateverGate and bizarrely overstimulated enough that maybe someone of any political persuasion could actually enjoy it in some shallow way. My advice? Watch Bacurau instead. The Brazillian people-hunting thriller, also out this month, knows a thing or two about risks.  
All Episodes
our favorite movies
all movies
Wait, What is This?
Movie Reviews & Reappraisals
Be Reel is a movie reviewing & reappraising podcast hosted by Chance Solem-Pfeifer and Noah Ballard.
Each time out, we select three movies based around a genre and call up guests ranging from submarine captains to Oscar winners. Then, we rate the movies, weighing both technical quality and entertainment.
Noah and Chance are old friends who mostly respect each other's opinions. Even though Chance is a fool and a traitor. Find their show presented at ThePlaylist.Net and follow them on Twitter for the latest on Noah's literary agenting and Chance's work in the Portland arts scene.