The State of Cage (feat. Ray Gill Jr. & Andy Crump)
Episode 212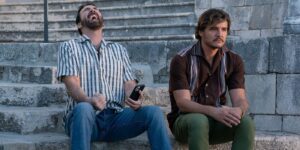 Few would call Nicolas Cage a chameleonic actor, but his career is always shapeshifting like no other. On the occasion of Cage playing himself in "The Unbearable Weight of Massive Talent," Chance is joined by fellow Portland film critic Ray Gill Jr. to review the new movie and then by returning champ Andy Crump to break down the last chapter of Cage's career as the icon embraces gravitas and grief in standouts like "Pig" and "Mandy."
You can find Ray's writing via OPB and Willamette Week, and hear him every Saturday on Portland Radio Project. And read Andy's extensive writing on Nic Cage right here.
All Episodes
our favorite movies
all movies
Wait, What is This?
Movie Reviews & Reappraisals
Be Reel is a movie reviewing & reappraising podcast hosted by Chance Solem-Pfeifer and Noah Ballard.
Each time out, we select three movies based around a genre and call up guests ranging from submarine captains to Oscar winners. Then, we rate the movies, weighing both technical quality and entertainment.
Noah and Chance are old friends who mostly respect each other's opinions. Even though Chance is a fool and a traitor. Find their show presented at ThePlaylist.Net and follow them on Twitter for the latest on Noah's literary agenting and Chance's work in the Portland arts scene.