'Chicken Run' and Aardman's Claymation Wizardry
Episode 165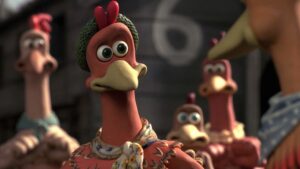 "Chicken Run" (2000) turns 20 this week, and to celebrate, Chance and Noah are looking back at the filmography of Nick Park, the chief creative voice of Aardman Animation through its heyday. To understand the origins of Park's droll but heartfelt world, we rewind to the original, Academy Award-winning "Wallace & Gromit" shorts and discuss all the hallmarks of tactility—exploding fruit, precocious critters and nightmarish "steam folk" machines—that made Aardman movies so singular. After a full-scale celebration of "Chicken Run," we also review "Wallace & Gromit: The Curse of the Were-Rabbit" (2005) and "Early Man" (2018).
* * *
To support the causes of justice and equality for Black Americans in these times, please consider donating to:
-The AAR Diversity Internship Initiative– aaronline.org/page-1795315
-Don't Shoot PDX — www.dontshootpdx.org/tag/donate/
-The Family of James Scurlock — www.gofundme.com/f/for-james-scurlocks-family
All Episodes
our favorite movies
all movies
Wait, What is This?
Movie Reviews & Reappraisals
Be Reel is a movie reviewing & reappraising podcast hosted by Chance Solem-Pfeifer and Noah Ballard.
Each time out, we select three movies based around a genre and call up guests ranging from submarine captains to Oscar winners. Then, we rate the movies, weighing both technical quality and entertainment.
Noah and Chance are old friends who mostly respect each other's opinions. Even though Chance is a fool and a traitor. Find their show presented at ThePlaylist.Net and follow them on Twitter for the latest on Noah's literary agenting and Chance's work in the Portland arts scene.