'The Batman' Is A Grimy, Overlong Hunt With Genuine Style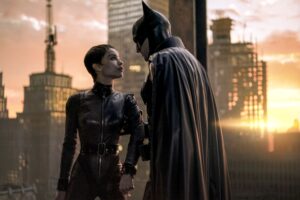 What did Tim Burton ever do that the entire machine of contemporary franchises was like, "Forget this cartoon bullshit; let's make it realistic." (Question withdrawn; we know what Tim Burton did.) 
But seriously, why the preoccupation with realism, and to what end? Why would The Lion King be better with photo-real animals? Why would the Joker be a better character if you treated him as suffering from a debilitating mental illness? (Also a plot beat with Green Goblin in No Way Home.) At the end of the day, these entertainments are still flights of fancy, pivoting with the Titanic's dexterity from "take me seriously" in Act 1 to "ok, let's do a Batman" in Act 3.
This is all preamble to say, when someone tells you "The Batman" (2022) is good because it's so realistic, that ain't it. Even when they trot out that old cliche, it's because he's the world's greatest detective, that's ain't it either! Director and Apes auteur Matt Reeves succeeds with The Batman by creating a universe where many heightened elements live together as comfortably as we've seen in a Batman movie since Burton spent 80 million dollars on Danny DeVito's black bile in 1992. (No major shade on Nolan, but universe-building wasn't the strength of those films.)
So how does director Reeves pull it off? Engrossing visuals, and no fuss otherwise. Case in point, multiple characters (namely Jeffrey Wright as Commissioner Gordon) call Batman "man." As in, "What's with the suit, man?" There is a comfort with the supreme weirdness of having the Dark Knight stand around, fully costumed, in a medium shot of beat cops. The Penguin (Colin Farrell), Selina Kyle (Zoe Kravitz), the Riddler (Paul Dano) all fit into the fabric of this universe organically as lunatic gangsters, plotting cocktail waitresses, and duct tape vigilantes, respectively. They carry the grit of their surroundings, while the nutty parts of their performances (Farrell hollering under latex and Dano screaming his guts into a voice changer) harmonize with the plodding, booming, melodramatic textures of Reeves' movie—made comprehensive by cinematographer Greig Fraser's way with fire and gloom and composer Michael Giacchino wrestling the score away from the Zimmer hum and toward something funereal and melodic. 
So no, I don't think a movie with the repeated creative pulse of "Something In The Way" (Nirvana) is John Cassavetes. What audiences are responding to is *actual style* in a superhero movie! Reeves portrays Gotham as the bottomless pit of corruption that a person could spend their whole life mopping up, laying bare the city that Nolan characters used to just talk about. The streets are filthy, the politicians and cops are just as, and often the only light comes from smartphones where The Riddler is sermonizing on class warfare. 
Granted, there's no earthly reason the movie needs to be three hours. If anything, its ideas are beautifully simple and cogent. The Riddler is that classic Niethzian shadow of Batman, though nobody has to give voice to the fact that they're responding to the same ills of Gotham in different ways. What's more, Batman has taken on a task he can't control; he must find the value of human life in a vigilante role that bears no final fruit. You can do that in two hours. The spare hour here is spent on brooding, a bad Selina Kyle family subplot, and some less-than-scintillating revisions of Thomas Wayne's legacy. 
That excess unfortunately clouds a handful of dynamite setpieces. The trailer-spoiled Batmobile chase is still the most excited I've been to see the car probably ever. There's a club scene where Selina wears surveillance contacts (with Batman at the remote monitor) that's not only brilliant filmmaking but also telling commentary on Bruce's frustrations with what Batman can't accomplish. And then there's Pattinson, who is at once all-in and barely there. At one point in the movie, the Riddler chastises Batman that the real him *is* the one who wears the mask. Pattinson takes that lesson to heart. As unmasked Bruce, he appears deeply uneasy, almost drawn, like a young man grown gaunt before his time—perhaps because he's been Howard Hughes-ing in his mansion. This Bruce Wayne barely wants to exist. 
Surprisingly, that theme works if you have a Batman who wants to spend his life in the gutter. Reeves is daring, clear-eyed, and long-winded enough to make the whole movie a gutter. And it's overflowing.
All Episodes
our favorite movies
all movies
Wait, What is This?
Movie Reviews & Reappraisals
Be Reel is a movie reviewing & reappraising podcast hosted by Chance Solem-Pfeifer and Noah Ballard.
Each time out, we select three movies based around a genre and call up guests ranging from submarine captains to Oscar winners. Then, we rate the movies, weighing both technical quality and entertainment.
Noah and Chance are old friends who mostly respect each other's opinions. Even though Chance is a fool and a traitor. Find their show presented at ThePlaylist.Net and follow them on Twitter for the latest on Noah's literary agenting and Chance's work in the Portland arts scene.